It's been a while since I've done my last hair tutorial –shame on me– but now that I've rediscovered my interest in hair styling, I thought it was about time I gave this another go. One of the things I like to do is making a donut bun. It's a quick and easy way to play around with your hair and try something different without having to undergo some major changes (like cutting.. brrr…).
If I recall correctly there was some scene from 'The Hills' in which Lauren C. (God I miss her) and one of her friends went to the hair salon just to get a new hairstyle for the day (I think it was something braided). Nothing else. No cutting, brushing nor dyeing. I wish we had something like that here.. or do we? In the meantime I'll just show you how you can create the look above at home.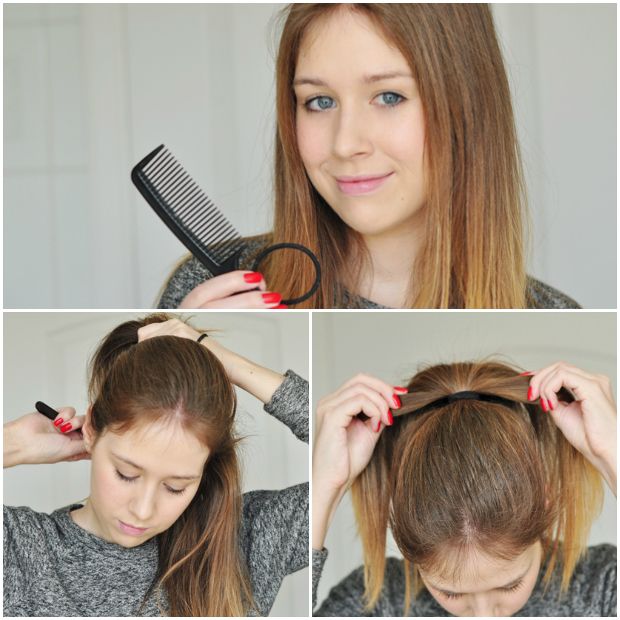 1. Sleek hair is the best to make this look work. If your hair is curly, use a straightener before you get started. Your hair shouldn't be too smooth either, or the bun might not stay in place. You need a strong hair elastic, a comb, hair spray and of course; a donut. You can buy these almost everywhere (supermarkets, fast fashion retailers, drugstores..) and they're really cheap. I got mine at Claire's for about € 4. Make sure you choose a color that's close to your own hair color. Or you can go DIY all the way and use a big old sock. Just cut off the tip and roll it up so it's shaped like the donut.
2 & 3. Make a high ponytail and pull it hard so the hair elastic is as close to your head as possible.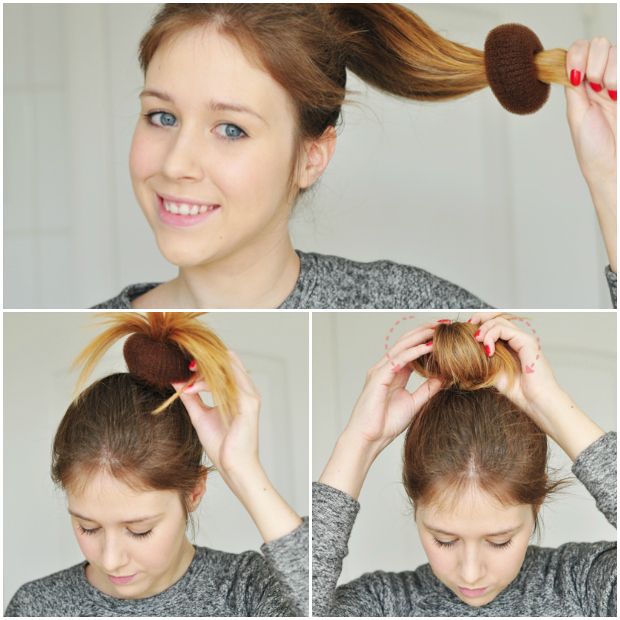 4. Take the donut and pull your ponytail trough all the way. Then, shove it until you reach about 1/4 from the ends (or 3/4 from your head).
5. Ever had palm trees in your hair as a kid? That's exactly what you need to do in the next step. Divide the 1/4 th that is sticking out of the donut (the rest of my tail is just hiding behind my head in this pic) over the donut and pull it downwards over the donut, so you don't see it anymore.
6. Tuck the ends in the donut. This is a really important step so make sure they're all properly tucked in before you continue!
7. Now you're ready to roll your donut: Grab the donut with the ends tucked in and hold it above your head in order to get your ponytail straight. Use your thumbs to keep everything in place by pushing upwards on the inside of the donut while using your other fingers to pull the donut downwards by rolling. It's almost like rolling up a sleeve. Do this until the donut touches your head.
8. Finish with hair spray ( I used Matrix Vavoom Freezing Spray).
9. And that's it, you've made yourself a donut bun! It takes some practice though, so don't give up after your first try!
 Cute & sophisticated? Check!
Now it's up to you!
Questions or requests? Let me know in the comments!