I don't feel like another manic Monday so let's talk luxury! Kenzoki is on it's way to become one of my favorite skin care lines. One reason is the Sensual Bare Body Cream, who ended up being one of my top 12 products of 2012. The other reason is this Belle De Jour White Lotus Mask. Now before I scare you off by mentioning the price, I'd like to say a few things that might justify it.
Everything about the Belle de Jour Mask is luxurious, including the lovely packaging with a lot of attention to detail. The large jar comes complete with a sturdy album-like informational booklet and soft bristled brush. Kudos for Kenzo, because I don't like to put my fingers in the jar when it comes to skincare (ew germs). After I've emptied it, I can always keep the brush and use it for other products.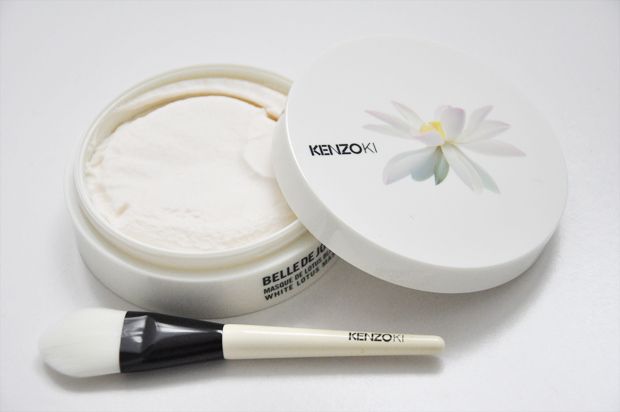 Belle de Jour's star ingredient is.. you guessed it.. white lotus. The flower is cultivated especially for Kenzo in East Asia and is regarded as a sacred flower because of its many soothing and anti-free radical properties.
So what does it do? The White Lotus mask wraps the skin inside a bubble, restoring its optimal balance for a radical effect on the beauty of the face. After applying the mask, Cortisollevels drop around 23% after one application. The skin is left luminous and radiant. In short, the mask promises to hydrate, increase radiance, soothe and protect your skin from these free radicals.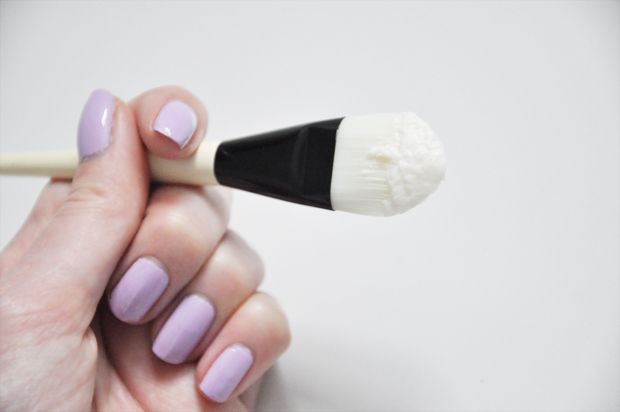 After cleansing I brush a thin layer of product onto my face and neck while inhaling the lovely soft powdery scent of the lotus flower which evokes the feeling of pure relaxation. The cream feels cool, rich and velvety. For 10 minutes I feel like I'm enjoying a weekend at a spa in a big white robe with nothing on my mind. I can just relax or go on with my daily activities. And you don't even have to worry about traumatizing the delivery guy, because the white lotus mask is completely transparent! I mostly use the time to wash out the brush and let it air dry.
After 10 minutes it's time to remove the mask with a soaked cotton pad, leaving my skin fresh, silky smooth and illuminated. Even for combination skin like mine, there's no oily residue that stays behind, nor a stinging or tightening feeling. Only intense hydration. This makes it the perfect solution for dehydrated winter skin!
Now, like any other luxury product, the price category will not be for everyone. But since you don't need a lot of this product (I'm guessing you can do up to 20-25 applications with 75 ml, which would make it around € 4 or less per application) this price sounds reasonable for your own spa-treatment at home, no?
Kenzoki is exclusively* available in Ici Paris XL for € 82 (75 ml).
(* for Belgium)