You finally managed to get that expensive smartphone, but now what? There's no way you could leave it unprotected right? Accidents can happen, no matter how careful you are. Now I did invest in a Samsung flip case when I first got hands on my Galaxy S4, and later I got the S View case for free because I pre-ordered it. Both cases are chic and of really good quality, but I grew tired of them so quickly since they're both white and apart from the window of the S View case, they're exactly the same and ridiculously expensive. € 60 for a smartphone case? You've got to be kidding me!
Time to dig up some cute ones that won't hurt my back account as much. It turned out that wasn't the easiest task. Most stores don't have that many cases that 'll fit my phone, they aren't cute and/or still expensive. God bless the internets! A lot of my blogger friends have ordered from Mini In The Box, so I decided to give that a go. This is the result: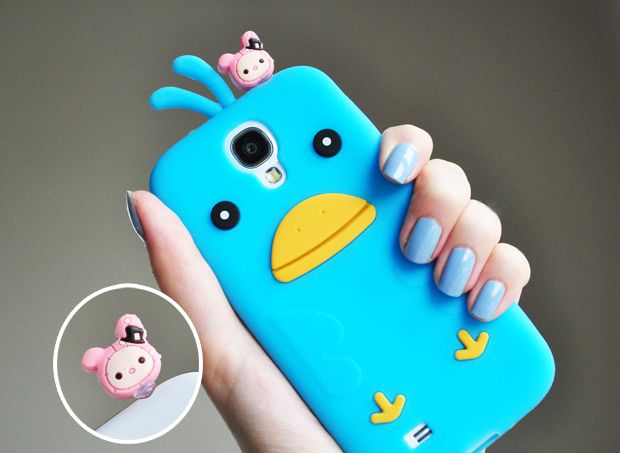 First up is this soft matte 3D silicone birdie that looks a whole lot like the famous Twitter bird. It's a little big in width, but my phone stays perfectly in place nonetheless. The silicone smells a bit weird, but I'm hoping this will wear off after a while. I love it because it looks so ridiculously stupid.
Things got a bit out of control once I got a hang of scrolling around the site and somehow this cute little fella found its way into my shopping cart. I'm not sure but I think the dust plug is supposed to represent a My Melody bunny. You can place it in the entrance where normally your earphones would go to prevent dust from clogging it up.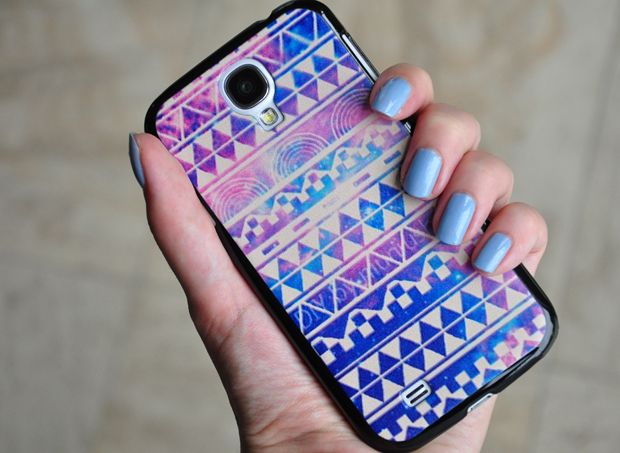 The second case is a sturdy hard case with a purple & blue galaxy/aztec print. This image was clearly picked straight off the internet (oh the Chinese and the property rights, I could write books about it..) which you will notice by the pixelated graphics. I'm pretty sure the text 'DIY by muniushop' doesn't indicate a brand the seller owns either. Still, it's a great looking case that I'll be tucking my phone in for the Fall/Winter season to come. Hey, a phone's gotta stay in fashion too you know?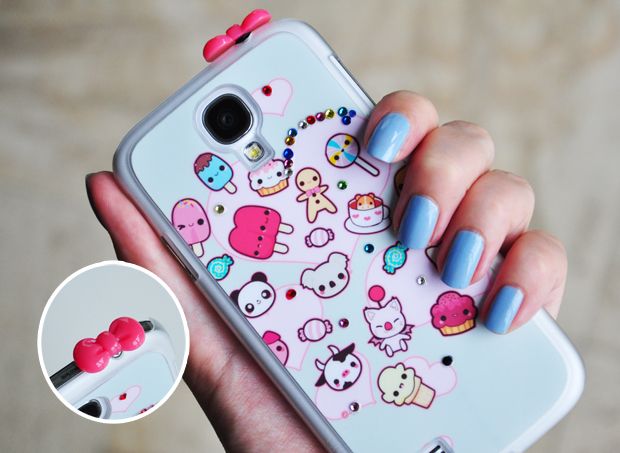 I saved my favorite and the most expensive one of the bunch for last: this über-kawaii Japanese styled candy animal hard case. The back is mint green with pastel pink hearts and all kinds of cute animals, yumminess and – geek alert – even 2 Final Fantasy characters (Moogle & Chocobo) on the back. On top of that there are a few colored rhinestones randomly glued on there as well. One of them already got lost in the packaging and two of them fell off already. The quality of the glue isn't that great as you might've guessed, but I don't really care because I didn't even notice there were going to be any crystals when I bought it. All I could see was the cute characters <3 You'll be seeing a lot more of this one!
To complete the kawaii transformation, I also added a pink bow shaped dust plug to my shopping cart. It reminds me of a Hello Kitty bow and it's also the main reason why I got it. It's not like you actually NEED a dust plug. I've never owned any before and I haven't had any problems with dust blocking the entrance for my earphones. For me it's just another way to customize my phone. You can get this one in other colors as well, although a random color will be picked for you. I just played it safe and went for the standard pink. Dust plugs are universal so you don't have to own the same phone to rock it.
All items via miniinthebox.com
I paid € 12,65 + € 1,83 (shipping) = € 14,48 in total for 3 cases and 2 dust plugs. The items were seperately packaged in a plastic bag and put in a bubblewrap enveloppe which took about two weeks to arrive from China. The quality isn't always that good, but I can't really expect more from items that cost € 4 tops. I'm pretty sure this won't be my last purchase.
Do you know any stores that sell cute phone cases? Let me know in the comments!
Disclaimer: The products in this post were purchased by me.