In today's post I'll continue my journey in the lovely Barcelona, by introducing you to Plaça de Catalunya and Passeig de Gràcia.
Plaça de Catalunya
Plaça de Catalunya was only 5 minutes away from my hotel and pretty much served as a base for trips throughout the city. From here on out it's pretty easy to get on the tube and go anywhere you want. The plaza itself is crowded at all times thanks to its proximity to some major shopping streets like La Rambla, Passeig de Gràcia and l'Avinguda Portal d'Àngel. Plus the square itself has a lot of places to dine like the prestigious Hard Rock Café and shopaholics can shop at hearts content at the two department stores of the Spanish El Corté Inlgès. Don't forget to check in and to a tourist discount card which gives you -10% on most brands!
Right around the corner there's also a Topshop/Topman store (Carrer de Bergara 1), but I found it to be a little disappointing. It's very small and so is the selection of items (there were a couple of items that were taking up multiple racks??). But do check it out when you're in the neighbourhood because you never know what you might find! I picked up a pair of short denim overalls which I adooooore.
Right next to the plaza you'll find the mini shopping centre of El Triangle. I call it mini because of the limited number of stores, but you'll find a major Sephora here you just can't skip! At first the store looks tiny and empty(?) but you need to take the stairs down to discover beauty paradise. It goes on forever!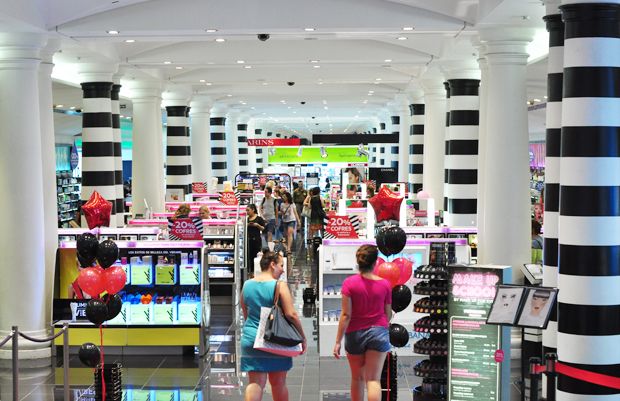 Passeig de Gràcia
This street has something for every shopper, whether you're looking for some cheap gear or you're in for a major splurge. It seems that the further away you move from Plaça de Catalunya, the more expensive the shops get. Even though we have Spanish retailers like Mango, Zara, Bershka, etc in most countries, it's definitely worth taking a peek because the items can cost up to -30% less!
I couldn't resist but to go and have a look at the & Other Stories shop as well. It's my absolute favorite newcomer of the year. Even though the store had 3 floors, it was smaller than the one I had seen in London. There's still a broad spectrum of items to choose from though. Of course I also picked up a few things which I'll show you soon.
Another store you should check out is Bimba y Lola. They offer a nice selection of colourful handbags, jewellery  and other accessories which they also ship to Belgium, but it's always fun to check out the items in real life and I have to say the quality is really good. There are 2 stores almost next to each other around the Carrer de València and Bulevard Rosa, which is a tiny passageway with a lot of cute shops (mostly shoes and accessories).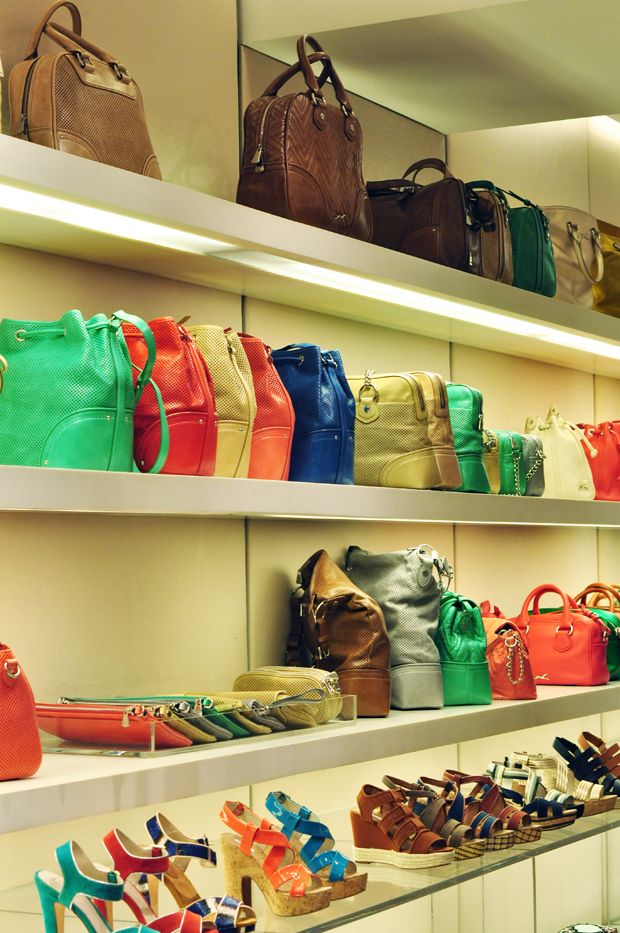 Fashion peepz with a little more money to spend will have every chance to buy some happiness at Louis Vuitton, Hermès, Chanel, Stella McCartney or Saint Laurent. Unfortunately I'm not one of them, but that didn't stop me from enjoying these incredible store windows.
Feeling rather hungry from all the shopping? Try the tapas from La Txapela who has a nice sun terrace right on the boulevard. Their menu comes in different languages but the best thing about this place is that you can order your tapas straight from the pictures of your placemat. Prices range from 3-5€ and about 5 pieces are enough to keep me moving for the rest of the afternoon.
Be cautious however: They'll offer you a tapas of the day when you order. Just know that it's yummy but not free and definitely one of the most expensive on the menu. The overall food quality was good, the ingredients were fresh and the dishes were nicely put together, but it's not the best tapas I've ever had. It's perfect for when you need a quick bite in between shopping that ain't greasy fast food (the place is swarmed with McDo's, KFC's and Burger Kings).
La Pedrera (Casa Milà)
After shopping it's time to enjoy some culture and architecture. Casa Milà, popularly known as 'La Pedrera', is a most unusual building, constructed between 1906 and 1912 by the architect Antoni Gaudí (1852–1926) and declared UNESCO World Heritage in 1984. Today it is the headquarters of Fundació Catalunya-La Pedrera and houses a cultural centre that is a reference point in Barcelona for the range of activities it organises and the different spaces for exhibitions and other public uses it contains.
The programme 'La Pedrera by Day' includes a visit to four of the most important parts of the building: the Roof, the Espai Gaudí (the attics), an apartment that recreates bourgeois life in the early 20th century and the exhibition room, which has a separate direct entrance from the street and is open whenever there is an exhibition.
You can visit La Pedrera for €16,50. Make sure you go really early or in the late afternoon to avoid big queues. I didn't go in because we lost a lot of time queueing for la Sagrada Familia earlier that day, but I've been inside the last time I was in Barcelona and it's definitely worth a visit. Definitely check out the incredible rooftop!
That's all for today, but there's more on the way! Don't hesitate to ask me anything if you're planning on a Barcelona trip anytime soon. Until next time!
Go to The Barcelona Diaries Part I.