Looking for something chic and covetable? Check out the Rouge G L'Extrait by Guerlain. Is it a lipstick? Is it a lipgloss? Or perhaps a lipstain? Not quite. It's a highly-pigmented liquid colour with a non-sticky, matte finish.
Liquid, creamy, consistent, ultra-pigmented and velvety, the Rouge G l'Extrait exceptional lip color is the perfect combination of a lipstick and a gloss that ensures an incredibly sophisticated look. The liquid texture glides gently across lips and within a few moments, the silky color becomes matte. A non-sticky, nondrying and non-feathering texture leaves your lips looking flawless for hours.
Each of the seven shades is inspired by one of the seven deadly sins: Avarice (Greed), Colere (Wrath), Luxure (Lust), Envie (Envy), Paresse (Sloth), Orgueil (Pride) and Gourmandise (Gluttony). I got to review M27 Luxure, a deep brick red with orange undertone.
The packaging is everything you'd expect from a luxury brand like Guerlain. The beautiful metal case is a little longer than the original Rouge G case. Just like the Noir G mascara, the Rouge G L'Extrait is refillable, yet the refills are not (yet?) available in Belgium.  I had some difficulties to open it at first, but luckily they had included directions on the back of the case. One must first pull the small end with the "G" out and then twist in order to make the doe-foot applicator appear.
Unlike the lipsticks, L'Extrait has a little plastic piece on it's tip that indicates which color it is. The downside of this mirrored metal case? It's quite heavy to carry around in my bag and the metal is pretty susceptible for fingerprints.
When I first swatched this on my hand, I was pleasantly surprised by its deep pigmentation. At this point I'm really happy that L'Extrait has a fine applicator and double mirror in order to  work more precise.
The texture of Rouge G L'Extrait has the typical light Guerlain scent and is creamy, but not too thick. It has the consistency, feel, and wear of a liquid lipstick. After application it dries down to a somewhat semi-matte finish with a subtle sheen. It's even a little hydrating, which is great because matte drying lip products are such no-go's. Remember to exfoliate before applying though!
The shade stayed put for 8 hours on me. Not exactly the same as when I applied it, but it would do. You might have to bear in mind that there's a lot of transfer, especially when eating or drinking, so I wouldn't recommend it for a make-out session with the bf. Strangely, this doesn't have much effect on your lips. It just stays put. And after 8 hours, it's surprisingly easy to remove. I thought it was going to be a total pain like the lip stains but everything came off smoothly.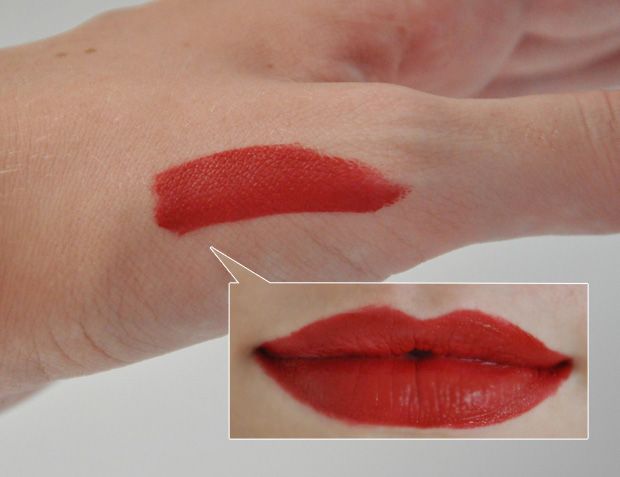 To me, Guerlain is totally knocking it out of the park with this formula. It's hydrating, long-lasting and ultra-pigmented. If you're into matte, but don't want dehydration, I'd suggest you give this a try.
While I love the texture, the colour of Luxury is another story. Though I've always loved red on others, but I never managed to get that "wow" feeling when I wore it. Even my hand model looks hotter wearing it, lol (yes I got a little too carried away with this product)! I guess I'm more of a Paresse or Avarice kinda girl. I'll be keeping an eye out for those and I hope there are more shades to come!
The Rouge G de Guerlain L'Extrait cream glosses are available for € 43.