Lip crayons are nothing new. Clinique has a smash hit on their hands with the 'Chubby sticks', so it's not that surprising other brands wanted in on it. I recently emptied one of my Chubby sticks and was looking to try something else when I stumbled onto these colorful sticks from Bourjois, the Color Boost Glossy Finish Lipsticks. They come in 4 lovely shades that looked so fun for the summer so I picked up two of them; 03 Orange Punch and 04 Peach On The Beach.
By the time I got back from Barcelona (I bought them right before) they had already managed to gather enough fans to get that must-have label for themselves. Every big beauty blog was talking about them and giving nothing but praise. And now I'll be doing the test myself: are these really worth the hype? Let's find out!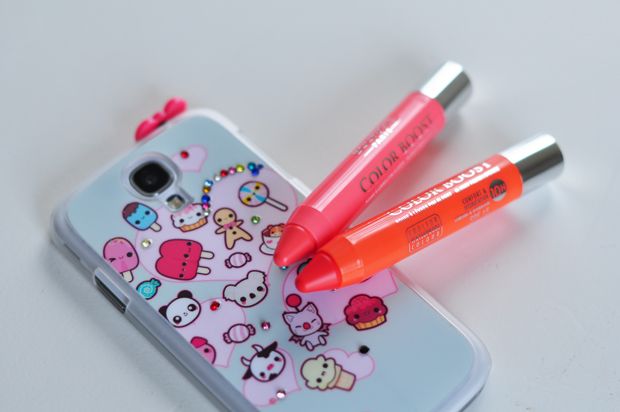 The Bourjois Color Boost Glossy Finish Lipsticks promise to:
be color boosting
offer comfort & hydration for up to 10 hours
be waterproof
a bare lip sensation
glossy finish
spf 15
First of all, the packaging is nothing spectacular. It seems they took a good peek at the Chubby sticks, but the design look nice nonetheless. The 'lipsticks', though I prefer to call them lip crayons or lip balms, come in a pretty plastic casing with twistable silver end. No sharpener needed (yay!). It feels light in your hand which makes it the perfect accessory to tuck in your bag wherever you go.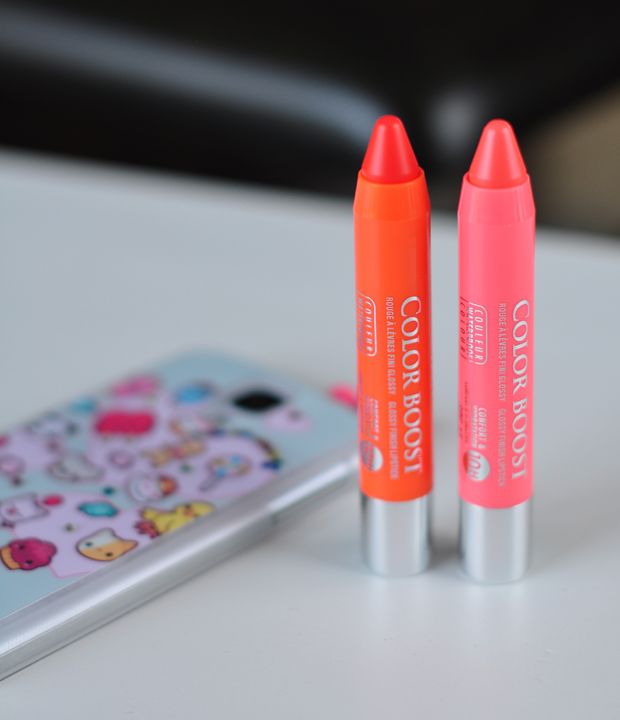 Don't be fooled by the 10h lasting-effect promise (why do brands claim such things anyway?), the color will last you a couple of hours but after a meal or some drinks the gloss will be gone, so reapplying is needed (that's it for the waterproof effect too then). The color that stays behind is somewhat of a stain, but without dehydrating the lips or cling onto any patches. The texture makes the product go on as smooth as butter and has great hydrating abilities, without feeling oily or sticky. It has a nice fruity fragrance to it as well.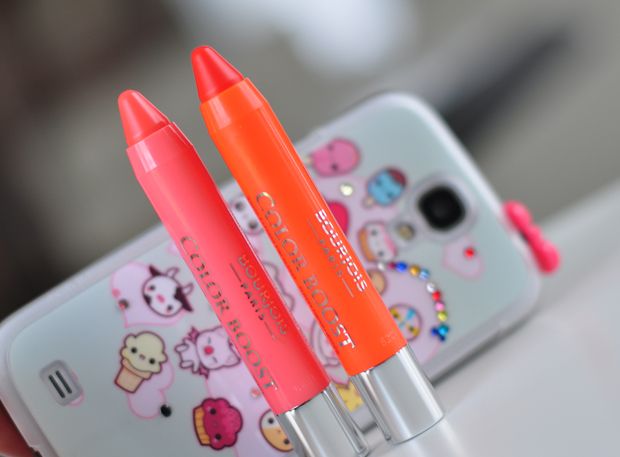 Color-wise these two give off a nice sheer shade, more intense than a lip balm, but less than a lipstick (like say, the Dior Addict ones) would. They don't really add much color on top, but blend with the colors of your lips instead. That's why the Orange Punch looks a little more pink on me than in the case. My absolute favorite is Peach On The Beach, as it is so versatile. The peachy pink shade is sure to suit any skin tone and work just about anywhere, day- or nighttime.
So, is it really worth the hype?
For me it sure is! They're incredibly comfortable to wear, hydrating and the colors look incredibly pretty. I keep one of them in my handbag all the time and I'm hoping they'll extend the range of colors so I can pick up some more. I might even say I prefer these over the Chubby sticks, or at least for summer. When you're looking for more coverage, I'd go for the good old chubbies.
The Bourjois Color Boost Glossy Finish Lipsticks are available for € 12,55 (BE) and € 9,99 (NL) at Kruidvat, Di and Ici Paris XL. For price/store info in your country check out their website. Tip for the Belgians: because of their 150th birthday you can pick up 2 Bourjois products for € 15 at Kruidvat for a limited time. I say, the perfect time to try them out!
Disclaimer: The products in this post were purchased by me.