Even though I don't feel ready for Fall, I'm always up for a new make-up collection. A couple of weeks back I was invited to The Hotel in Brussels to discover the new Givenchy Fall/Winter make-up collection; Soir D'Exception. Yet again, the range is pretty modest in size, but numerous in eye gawking must-haves.
Soir D'Exception consists of the Harmonie d'Exception eye shadow quad, 2 Le Roughe Givenchy lipsticks (°206 Rose d'Exception and °308 Rouge d'Exception), 2 Nail Vernis (°10 Lilas d'Exception and °9 Rose d'Exception), a Magic Kajal kohl pencil in Brun d'Exception and the Noir Couture mascara in °3 Khaki d'Exception.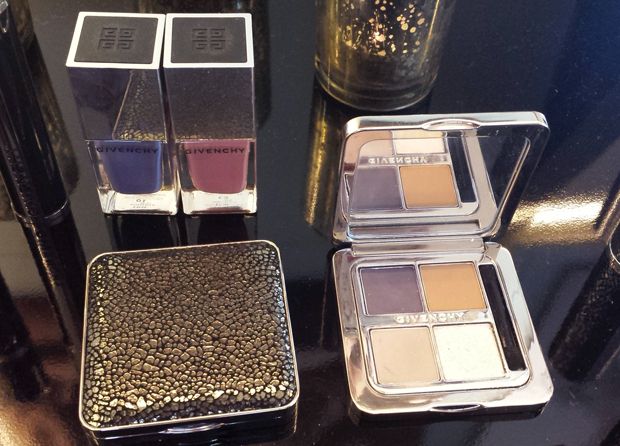 One thing that immediately caught my eye is the gorgeous new design of the packaging of the eye shadow palette and lipsticks. It's a metal casing with what looks like a soft black suede leather cover with a sprayed layer of crackled gold on top, creating a reptile skin effect. Absolutely gorgeous.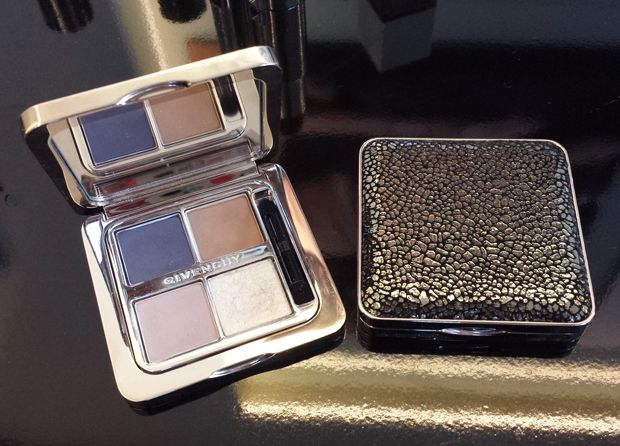 The Harmonie d'Exception eye shadow palette is being marketed as the must-have of the collection, although I'd much rather go for the newest additions to the Le Rouge lipstick line, which was one of my favorite releases of the year. Apart from the stunning packaging, I think the shade selection looks a bit dull even though it's pretty unique and the campaign image of the look looks great. It's just one I wouldn't be drawn to if I were to spot it in store.
The palette contains 3 matte eye shadows in vieux pink, dark purple and caramel and a light pink shimmery pearlescent one. Unlike last season the shades are well pigmented. The product in total is way to heavy to be carrying around in your bag. And there's just no way I'd pay € 68 for a palette with only 4 shades. Sorry Givenchy.. it's just not happening.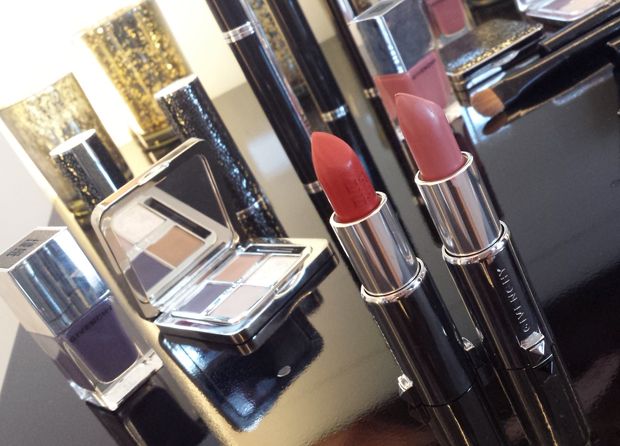 One thing I can't get enough of are the Le Rouge Lipsticks. I own 2 shades already (I literally ran to the store after trying the one I got to review) and I got the Rose d'Exception one to try at home, which you'll read and see more about very soon. I can already tell you I love everything about this; from the packaging to the shade and its semi-matte finish. Le Rouge d'Exception looks exceptionally pretty as well. Like I said, I can't get enough of these.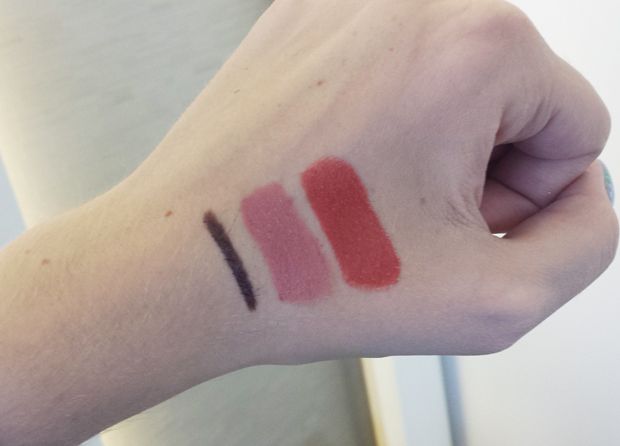 Swatched: Brun Magic Kajal – Rose d'Exception & Rouge d'Exception lipstick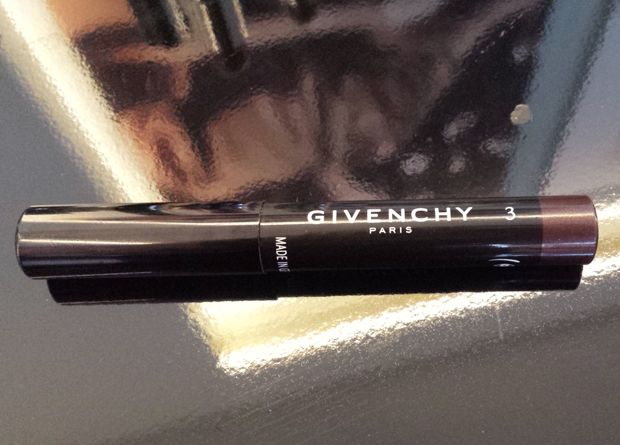 Another product that piqued my interest is this Magic Kajal eye pencil in °3 Brun d'Exception. It's a chestnut brown shade with a hint of pink. The creamy consistency of this pencil is amazing. I'm curious how long this would last.
The nail polishes are 2 new additions to the Le Vernis Givenchy nail polish collection that recently got a complete make-over. In this photo Anastasia (Dior PR) is showing the nail art that was used for the campaign. I'll be doing a review of the Rose d'Exception nail polish soon.
Then we go on to even more good stuff: foundation! It's important to have a good base because it can really make or break a look. Finding the right foundation can be a difficult task, so I'm always interested to try out new formulas in search of 'the holy grail'. You'll be seeing a review of the Teint Couture liquid foundation soon, but lets just pause for a minute to have a look at the Teint Couture compact foundation. What.A.Beauty! It comes in a stylish matte case with a big mirror, applicator sponge and a compartment with a little pink highlighter, which you can use separately or blend it all together. The product starts off creamy, but once applied it has a soft, powdery finish. Out of all the make-up I saw that day, this was probably what stood out the most for me. That's another one for the wish list!
L'Ecrin du Soir in Harmonie d'Exception eye shadow quad € 68
Le Rouge Givenchy in Rose or Red d'Exception € 34,5
Noir Couture °3 Khaki d'Exception mascara € 32
Magic Kajal eye pencil in °3 Brun d'Exception € 20,5
Le Vernis Givenchy in Lilas or Rose € 21
Teint Couture liquid foundation (6 shades) € 46
Teint Couture compact foundation (4 shades) € 53,5
*shade selection may differ per country
What do you think of Soir d'Exception and Teint Couture? Which product stands out for you?
These pics were taken with my Samsung Galaxy S4 at an event. The comments above only mention my first impressions.