Behold my humble collection of Maybelline Super Stay Matte Ink liquid lipsticks! Just looking at this collection of colours puts a smile on my face!
The packaging is simple yet very aesthetically pleasing thanks to the coloured case that matches the actual colour of the product. The mix of glossy and matte plastic gives it a nice feel, not quite high end but definitely something that's your money's worth.
The wand of the Maybelline Matte Ink comes with a spear-shaped applicator with a hole in the middle that serves as a little reservoir for the product's application. It ensures you don't pick up too much product at once and gradually diffuses product as you swipe the applicator across the lips. The pointed tip makes it easy to contour the lips although some may find it easier to use a lip pencil beforehand if you have wrinkly lip contours.
The product itself is very pigmented and has a particular artificial sweet scent. Not unpleasant but something to take into account if you're sensitive to that kind of thing.
After swiping twice the lips are saturated with a beautiful colour. Try not to press your lips together too much as long as the product is in drying mode to let it set and grab onto the lips. After a while your lips will be wrapped in a matte finish as demonstrated in the swatches of 130 Self-Starter. I had to apply them fast one after the other for the photos, because once they're set, they are really set! Yet, without feeling uncomfortable. The Matte Inks never dry down completely, which ensures your lips don't dry out during the day.
Swatches (standard, un-nudes & city edition):
05 Loyalist, 10 Dreamer, 15 Lover, 20 Pioneer, 25 Heroine, 35 Creator, 40 Believer, 50 Voyager, 65 Seductress, 117 Ground-Breaker, 118 Dancer, 120 Artist, 125 Inspirer & 130 Self-Starter.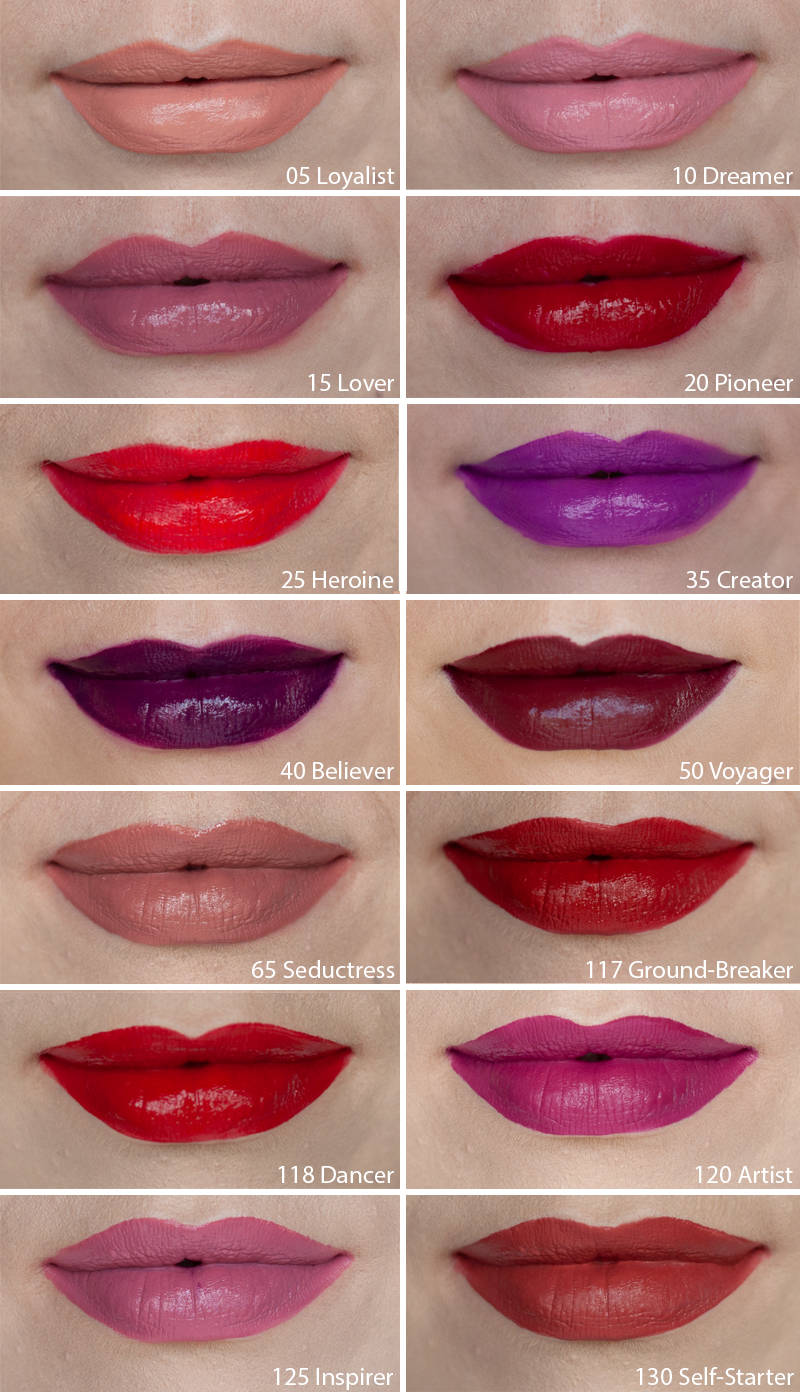 Honestly, this probably the most long-lasting formula of lipstick I have tried.. EVER! Kissing, eating, drinking.. nothing seems to affect the Matte Ink lipsticks. If you're looking for something that should last all day, this is it!
On the downside, it is a pain to remove at the end of the day. Even oil cleansers have a hard time getting rid of the stain. Here's what I recommend: saturate a cotton pad with one of those eye-makeup removers with both oil and water that you need to shake up. Press it onto the lips for about half a minute and then gently wipe off the product. If your current one doesn't work, get yourself a Korean one as these are made to get rid of lip stains easily.
Given the fact that I've accumulated 14 shades in the past two years since the initial launch and they have survived my declutters, you could say I'm a big fan. It's hard to pick a favourite colour because I switch about every month or so, so I'll stick to saying which one I wouldn't recommend: 40 Believer just isn't as good of a performer when it comes to opaque application like the rest of them unfortunately. If you haven't checked them out yet, I suggest you do. I'm sure there will be a colour in there you like!
Maybelline Super Stay Matte Ink – € 12 / $ 8 / £ 10
Available at the drugstore.
Disclaimer: Products were gifted for PR purposes & purchased.