Glamour with a tomboyish twist, that's what H&M brought to the catwalk of Paris Fashion Week earlier this year and it was everything I had hoped for. The collection that will hit the racks in early September embodies both military (ceremonial & leather jackets, military caps..) and bohemian influences (fringes, sequins..), topped with a large chunk of drama. The military looks instantly reminded me of my fashion drawing I posted a while ago and I soon realized this collection is everything I'd want to wear during Fall.
Some of my favorite looks from the runway show. You can find all of the pics on my FB page.
On the wishlist: These are some of my favorite pieces from the collection. And they'd make a pretty awesome outfit too! Everything in this collection mixes so well. I particularly love a cosy oversized knit paired with feminine knee boots. Hawt. The faux fur coat is just the cherry on top and the military cap is something that has been on my most wanted list for ages.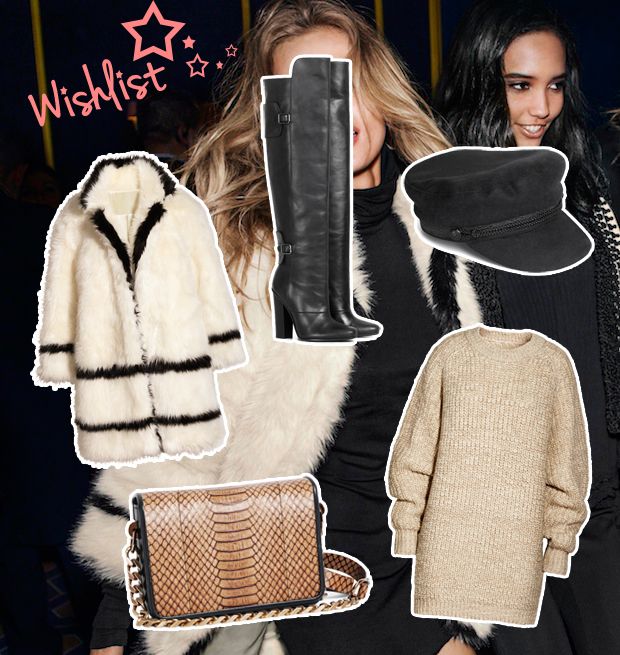 The Autumn collection will hit select H&M stores on September 5th. For Belgium this includes the ones in Brussels (Nieuwstraat and Elsensesteenweg) and the Meir 89 in Antwerp. Prices range from €14,95 – € 249. Please note that not all items will be available in each country (Some items will only be available online). So tell me H&M, when can we expect that online shop? Pretty please!
What do you think? Anything in here for you?