While rummaging through my pile of beauty products I found some products laying around that I've shown and thoroughly tested, but not exactly reviewed them on my blog. Among them were some products I packed on vacation like these 3 from the Verbena (Verveine) collection by L'Occitane.
L'OCCITANE Verbena is formulated from a premium quality verbena extract from Corsica, which is particularly fine and pure. The lemon fragrance energises and revives the senses, thereby helping to banish tiredness and stress. Products from the range include fragrances, body care, home fragrances and hair care. I have received a shower gel, hand cream and lip gloss during the Big You II event a couple of months back, enough time to provide you with a hands-on review!

The Citrus Verbena Shower Gel is a fresh unisex body shampoo with an irresistible citrus scent. Nothing gets me awake in the morning like the burst of crisp lemons in this pretty transparent bottle. L'Occitane claims the bottle is unbreakable, but I haven't really put that to the test. I don't want to risk spending my afternoon cleaning up my bathroom (duh). Maybe I'll try throwing it around a little when I've emptied it.
The citrus aroma is probably the biggest benefit of this product. It's just right, neither strong nor mild and it actually does linger sometime on the skin. The formula is supposed to contain verbena, orange, geranium and lemon tree essential oils, but the citrus scent is definitely the most prominent. The gel doesn't produce too much foam and rinses of nicely. It doesn't leave my skin tight or dry but I can't really notice any hydration either. It leaves behind a nice smell and a fresh feeling on the skin.
The Citrus Verbena Shower Gel retails for € 13 for a 250 ml bottle. Not cheap, but worth trying when you're a die-hard fan of citrus fragrances. They also offer mini sets!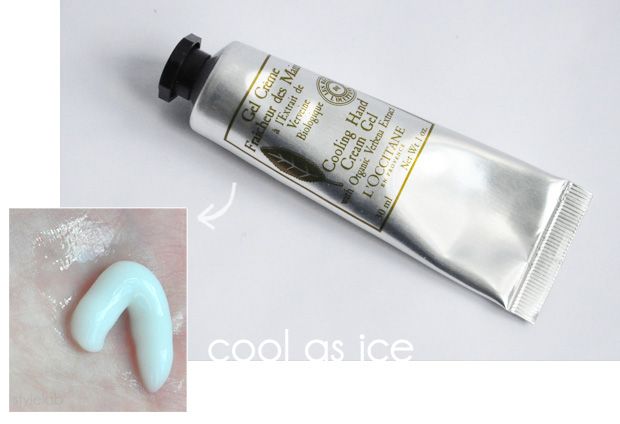 Next up is the Verbena Cooling Hand Cream Gel. I'm a big fan of the L'Occitane hand creams, but this is something totally different from what I've experienced before. This hand cream carries the same fragrance as the shower gel and has a gel-like consistency. As soon as it comes in contact with skin, it starts to melt as if it were ice (as shown on the pic). It spreads out easily, leaving a non-sticky feeling and a cooling sensation because of the alcohol.
After it's completely spread out, it turns to a matte, powdery finish (thanks to the tapioca powder), reducing perspiration and swelling sensations. Bye-bye sweaty palms! The cooling, dry and smooth feeling is something I really appreciated when it was so hot out! I'll definitely repurchase this one  next year.
However if you're looking for a nourishing hand cream, I'd recommend you look elsewhere. L'Occitane has tons of other hand creams that will be a better fit. My personal favourite during winter is the Fleur Chérie series.
The Verbena Cooling Hand Cream Gel retails at € 7 for 30 ml.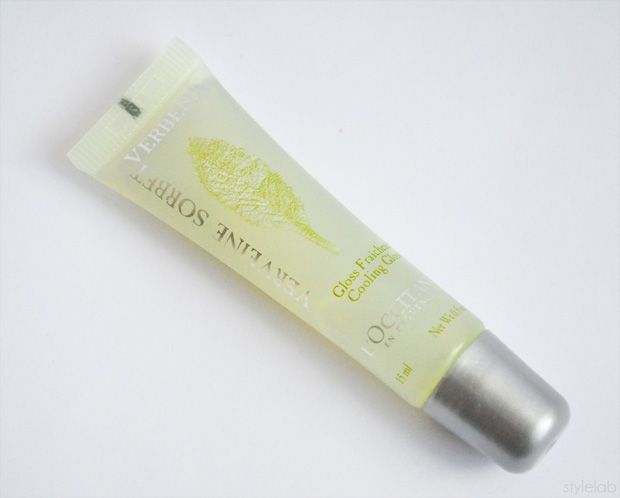 Last but not least is the limited edition Sorbet Verbena Cooling Gloss. First of all, I really liked the fact that the applicator is much more like a lip balm than a gloss. The tube has a secure screw top lid and it's head is somewhat angled, making application really easy. Especially when you're on the go and you don't have a compact mirror on you.
Just like the hand cream gel, the gloss has that instant cooling sensation that would last for about one hour, which really intrigued me! You can compare it with the fresh and cool feeling of toothpaste (thanks to the peppermint oil), but on the lips. And it doesn't sting like most of those lip-plumping products do, which is always a plus. The shea butter makes sure my lips are hydrated for about 2 hours and moreover, it doesn't feel sticky at all. It looks more as if my lips are wet.
The Sorbet Verbena Cooling Gloss retails at € 10 for 15 ml.
Bottom line, I really liked my experiences with this range. Even though they're marketed as summer products, I still continue to use them even now. I just love the cooling sensation. If you're planning on going to any exotic destination – or maybe next year- I'd definitely recommend to pick up the hand cream cooling gel. But right now for Fall, the lip gloss is what I tend to use the most.
___
NL: Vandaag enkele productjes die al een tijdje op mijn to-do review lijstje stonden; de Verveine collectie van L'Occitane! Na The Big You event mocht ik hiervan enkele producten testen en die zijn mij heel goed bevallen. De Verveine producten hebben een uiterst frisse citrusgeur waar ik dol op ben! De douchegel is één van de weinige producten waarvan ik 's morgens meteen fris en monter word! Het grootste voordeel van dit product vind ik dan ook de lekkere unisex geur die niet te sterk en ook niet te mild is. De gel schuimt niet overdreven en is ook gemakkelijk af te spoelen. Het zorgt niet echt voor hydratatie, maar mijn huid voelt ook niet droog of trekkerig aan. Er blijft een lekkere geur en fris gevoel achter.
€ 13 (250 ml)
De Cooling Hand Cream Gel was absoluut één van mijn favorieten tijdens mijn vakantie. Van zodra de gel in contact komt met de huid begint deze te smelten. De gel smeert heel gemakkelijk uit en laat een poederig en uiterst fris gevoel na. Zeg maar daag tegen die zweterige handpalmen! Als je echt op zoek bent naar een hydraterende handcrème, dan zal deze je waarschijnlijk teleurstellen. Ik zou dan ook aanraden om naar de andere L'Occitane handcrèmes te gaan kijken, zoals bvb mijn persoonlijke favoriet uit de Fleur Chérie reeks.
€ 7 (30 ml)
Tenslotte mocht ik ook de Sorbet Verbena Cooling Gloss testen. Deze heeft een iets zoetere geur, maar de citrus is nog steeds sterk aanwezig. Ook hier is het verkoelende effect de grootste charme van dit product. En in tegenstelling tot veel van de lip-plumping producten waarvan je lippen gaan tintelen, is dit totaal niet het geval. Je kan het gevoel een beetje vergelijken met die van frisse tandpasta, maar dan op je lippen. De gloss is transparant en is helemaal niet plakkerig, waardoor het lijkt alsof je lippen gewoon nat zijn. Hij zorgt er bovendien ook voor dat mijn lippen mooi gehydrateerd zijn, en dit gedurende een uurtje of twee.
€ 10 (15 ml)
Niet zo goedkoop, maar als je net als ik dol bent op citrus-geuren, dan mag je deze beslist niet aan je voorbij laten gaan. Tip: er zijn ook mini setjes ter beschikbaar!