As a loyal follower of Zoella's beauty channel on YouTube, I was more than excited to learn that she would launch her own line of beauty products at Superdrug.
Given her popularity I was actually quite hard to find them at the superdrug stores I went to during my visit in London. But I did manage to find the Zoella Bath Fizzer, a fragranced bath fizzer that looked like a cute chocolate bar. Now I love a good bath with lots of bubbles and a lovely aroma, so I immediately put it in my basket, despite the £ 5 price tag. This isn't Lush that we're talking about so I had no idea what I was buying into.
The bar itself was white, contained 8 cubes and had 'Z' engraved in every cube. What I immediately noticed was how little fragrance the bar contained and I could only hope it would get better once the 'fizz party' started. It didn't. Even adding another cube was to no avail. I liked the scent though, but it was barely there. Also the fizzing itself was pretty poor. Where a Lush bath bomb drop looks like a visual feast, the Zoella Bath Fizzer didn't do better than the average aspirin.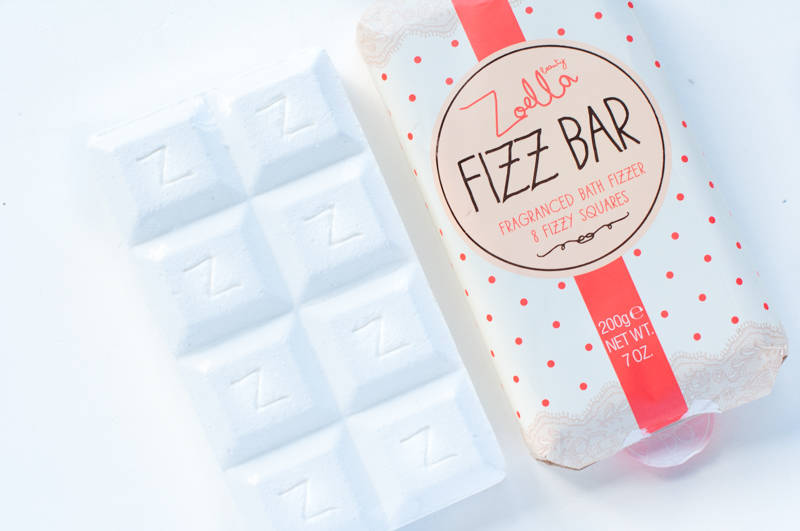 I'm all for supporting bloggers/youtubers/influencers and what not but the expectation bar is high and this product just didn't meet those standards. I'd rather spend my money at Lush, where you can get bath bombs for the same price (I don't use an entire bath bomb at once though).
Zoella Bath Fizzer – £ 5
Zoella beauty is available at Superdrug, FeelUnique, Di (BE)
Disclaimer: Product was purchased.