A woman's purse is her sanctuary. You don't touch it, it's personal. The content of a bag can tell a lot about its owner actually, which is why I'd like to share the content of my bag with you today. Just like any other gal I keep a big part of my life in my bag and I drag it around everywhere I go. Curious what's in there? Then read on…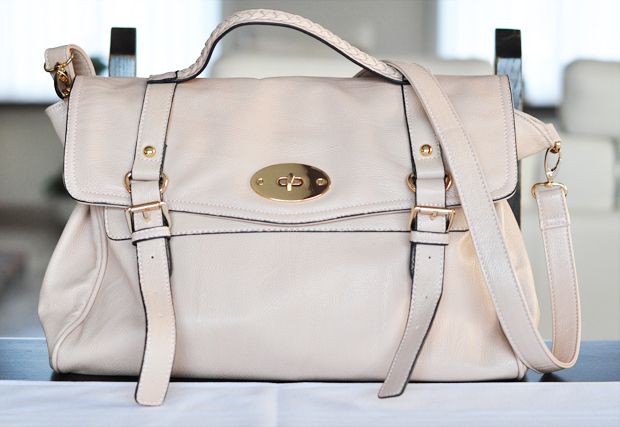 Let me introduce my latest bag purchase first. Meet the Essentiel Baggy, the star of the FW2011 collection I scored at the Essentiel stock sale last year. I fell in love with this bag at the spot because it resembles the Mulberry Alexa so well, which has been one of my designer bag crushes for a long long time. Well there's that, and I have a thing for messenger bags in general. To me they're the perfect mix of design and comfort (I like to keep both hands free when I'm shopping for instance). Initially I wanted to go for the tan one, but it was already sold out *sad face*. This nude version will make a nice addition when I actually purchase a tan Alexa in the future. Check out my latest outfit post with the bag here. Now let's move on to the content…
Apple Ipod 80GB: What's life without music really? I sure can't live without it. Apart from music this baby also contains some movies, series and tons of pictures.
Cointreau business card holder: As a blogger, carrying business cards around is even more important than your personal ID. You never know who you might encounter.
Secrid Slim Wallet: The best way to store and protect credit cards, ID, client cards etc is in this aluminium case with leather finish. The switch makes getting them out easy as 1-2-3.
Atoma MSN note booklet: inspiration can hit any moment, so I like to keep a note book with me. This one's really old though. MSN. Those were the days..
Nokia 5800 Xpress Music smartphone: A cell phone is the one item that can tell you the most about its owner. It has the numbers of all of your friends & family, your appointments, pictures of everything you eat or do, your favorite music and so on. Got this 4 years ago before the Iphone even hit our stores and Nokia still meant something. I switch it up every 4 years and at the moment I'm thinking about getting the Samsung Galaxy S4 when it launches in June.
Nici Polar Bear key chain and Hello Kitty key holder:  I hate scrambling through my purse to find my keys. Because let's be honest here; the smallest things always find their way to the bottom of you bag, don't they? So yeah, I attached a giant stuffed animal to my key in order to find it faster. And it's cute.
Natan-Baume wallet: Got this leather wallet as a present from my mom last year after my last one nearly fell apart. I love this one because the leather is so smooth and it's big enough to tuck all of my store cards in, of which there are simply too many to be honest.
Mini car key: the key to my transportation of choice. I love my car.
Bag holder: You can hang your bag at the table with this nifty hook. Got this as a gift from my mom. I don't use it that often though. My bag is just too heavy and I'm afraid it might ruin the design.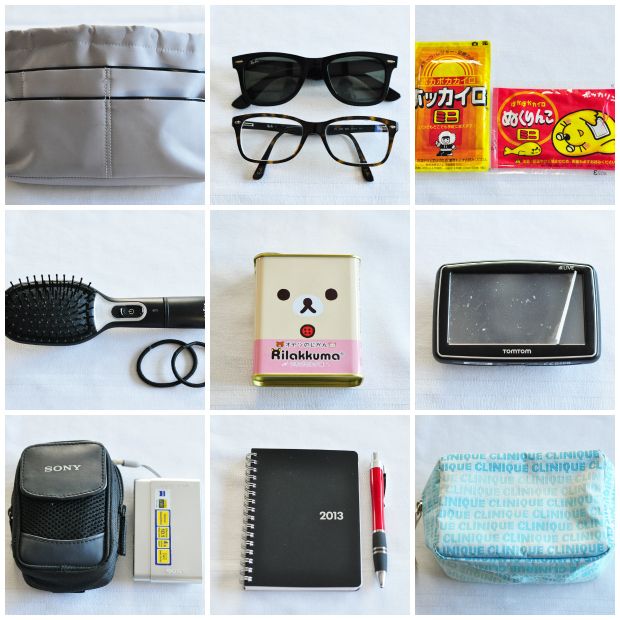 Transferrable bag: This is super clever. I stuff everything in this bag so switching to another purse is so much easier and faster. I always tend to switch at the very last minute before I have to go, so this really comes in handy. I don't know what brand this is, but you can get this anywhere.
Ray-Ban glasses and Wayfarer sunnies: I wear contacts, but just in case I lose one or my eyes become too dry, I keep my glasses with me. Without them I probably wouldn't recognize my own mother. Just saying. The low position of the sun (especially during winter) can be very dangerous for driving, so I keep my sunnies with me all year.
Kairo: A gift from my Japanese friends. Disposable kairo are little bags containing chemical ingredients that when triggered heat up to 50-60° and stay warm for 5-18 hours. I keep them in my pockets to keep my hands warm. The one with the seal is sticker kairo which you can stick onto your body like a band-aid. So nice and warm <3 It is said to help soothe menstrual cramps and backaches as well.
Braun Satin 7 brush and Zenner hair bands: I have the worst hair ever. 5 minutes outside without any styling products will get me coupe I-haven't-brushed-my-hair-in-10-years. You can read my review on the Braun brush here.
Rilakkuma candy: I got this fruit-flavoured candy when I was in Japan a couple of years ago. The tin box was just so cute I just put new candy in every time.
TomTom GPS: What would I be without you? Brussels is still hell though. The tunnels fuck my connection up every time.
Sony camera: My SLR is too big to drag along on a daily basis, so I keep my old camera close in case I encounter something interesting for the blog.
Hema day planner: I need to write my appointments and events down, or otherwise I'm sure to forget them. I love Hema's agenda's; they're clean, fun and easy in use.
Clinique bag: With my sanitary supplies. There's also a Mexx bag with my make-up.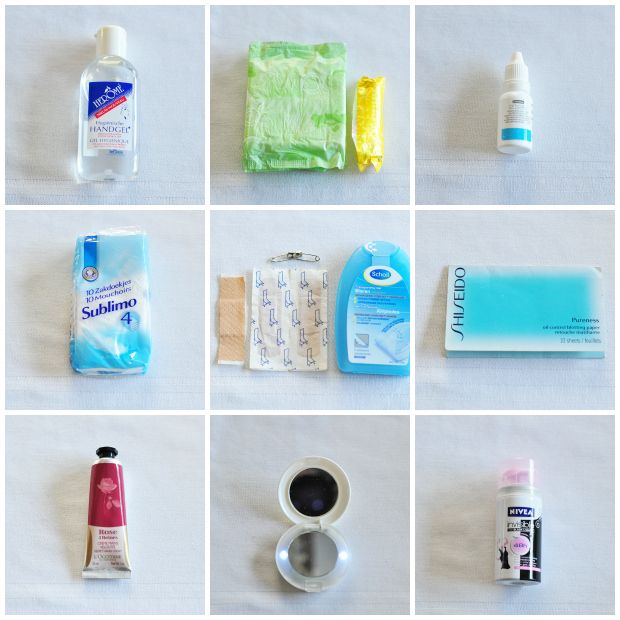 Herôme Hand Gel: I'm prepared for everything. Dirty washrooms and no soap in sight? No problem. I'm on it!
Err candy for women? You never know when hell might break loose.. (For some reason guys always fall for it when I offer them the yellow "candy". I mean, really?)
Kruidvat Moisturizing Eye Drops: For dry eyes and such.
Sublimo tissues: Any girl who goes out without some of these on them is doomed. What do you do when there's no toilet paper? Right.
Safety pins, band-aids and Scholl blister band-aids: If there's one thing you have to know about me, is that I am the most unfortunate person ever. I hurt myself all the time (falling down, bumping into things and breaking my limbs is almost daily business). If there was any more room in my bag for a First Aid kit, I'd probably carry that along as well. It has gotten a lot better, but still: I'm a big klutz.
Shiseido Pureness Oil-controlling Paper: the best way to get rid of the shiny T-zone without having to re-do your whole make-up routine. Winner!
L'Occitane Rose 4 Reines Velvet Hand Cream (30 ml): L'Occitane still has the best hand creams if you ask me. I don't leave the house without a tube.
Compact mirror (from Blokker): in order to prevent poking my eye with mascara, a mirror comes in handy. And it has lights too.
Nivea Invisible Black & White Deodorant: Tryin'na stay fresh.


Kiehl's Lip Balm #1 (15 ml): Another Winter essential to keep me from getting dry and chapped lips.
Dior Addict Extreme 316 Incognito, Guerlain Rouge Automatique 164 and Tom Ford 07 Pink Dusk lipsticks: a nude shade, a bright pink shade and something in between aka the perfect range to keep the smackers looking fab wherever I go. I switch colours every once and a while.
Bobbi Brown 2 Sand Foundation Stick: I got this portable edition of my beloved foundation to do some touch-ups when I'm on the road.
So, this was everything I keep in my bag at the moment. You can probably imagine my bag weighs a ton and it does. I've been carrying around a lot weight for as long as I could remember. Even fell flat on my face when I tried to bend over to pet my cat before leaving to school and was wearing an ridiculously overweight backpack when I was 10. Told you I always get myself into trouble.
Anyway what's in your bag? Let me know below (or post a link to your blog post).
Have a great weekend!