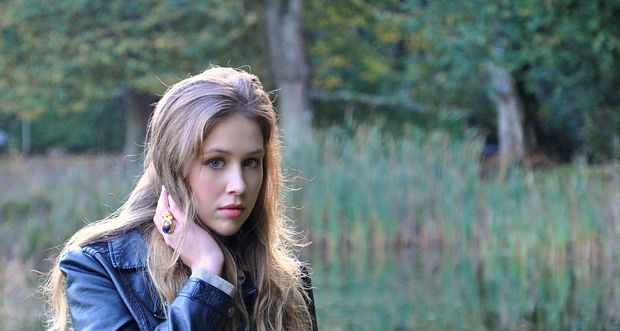 One fine evening a young princess put on her studded boots and leather jacket, and went out to take a walk by herself in the woods. She wanted to break free from the daily grind of the castle and the strict rules she had to live by to go on a quest with a meaningful purpose… to find true love. But as she broke free from the rules, she left safety behind too. In order to avoid drawing any unwanted attention the princess traded her beautiful cotton candy Marchesa dress for the clothes of the typical modern-day youth she had seen in a magazine she admired; tough on the outside, with a sugar sweet core. With nothing but her magical ring to protect her she sneaked out of the castle and went on her way.
After roaming around aimlessly for hours with no luck she sat down on a bench close to a green pond. The princess was almost ready to give up and return home when suddenly a tiny frog appeared before her. "If one so tiny can jump so high, why am I sitting here sobbing over such a small obstacle?" Thinking this must be a sign from above she thanked the little frog and returned to the castle. Determined to meet her goal, from now on, each weekend she would sneak out to continue her quest.
In the end, will she find true love? Or perhaps she has already found it but can't see it? Will the frog turn out to be her prince? Only time will tell!
Leather jacket: H&M — Safari dress: Maje — Stockings: Veritas — Camera bag: Zara 
Ring: YSL — Earcuff: River Island — Studded army booties and rope necklace: Forever 21
 Erborian BB cream — Bobbi Brown concealer (pale/ivory) — Mac Semi Precious Rose Quartz blush
Guerlain Terracotta Bronzing Powder (Blonde) — Catrice Big City Life Berlin eyeshadow
Max Factor False Lash Effect mascara — Chanel Bagatelle lipgloss & Blue Boy nail polish
Hi guys, I hope you liked my little story. When I found this little guy during outfit shooting I was so charmed I just had to use him in a post. He was so incredibly tiny (about half the size of my thumb) and there he was hopping over the tall blades of grass without a care in the world. It was so cute!
The inspiration for the outfit didn't come from a magazine though, but from the Maje safari dress itself. I bought it last season and I hadn't had the chance to wear it a lot during summer, so I was looking for a way to autumnify it. The dress has the most awesome leather details on the inside of the sleeves and collar, so I started to work from that and simply added more leather. Even though I managed to add more color to my spring/summer wardrobe, my fall/winter closet could still use some more bright pieces. I like the neutral color palette of this outfit though. Anyway, next time I'll show you the Margiela pieces I bought. Promise!