I'll admit, with all the crap brought out every year it's hard to find the films that are actually worth your time. 'The perks of being a wallflower' is one of those gems, at least for me. Perks is a coming-of-age drama based on the novel written by Stephen Chbosky, revolving around 15-year-old wallflower "Charlie (Logan Lerman), an endearing and naive outsider, coping with first love (Emma Watson), the suicide of his best friend, and his own mental illness while struggling to find a group of people with whom he belongs. The introvert freshman is taken under the wings of two seniors, Sam and Patrick, who welcome him to the real world."
Before you start thinking "oh great, another teen movie with flat stereotypical characters that deal with the hard life of being a teenager" I'd like to reassure you it's nothing like that. Sure there's the typical popular jock, the funny gay guy, the popular girl and the misfits but Stephen somehow managed to transcend the limitations of its genre and setting and created a warm, generous, but also painfully honest coming-of-agefilm.
Kudos to Stephen Chbosky for managing to adapt his own book into this remarkable picture. I haven't read the book yet, so I don't really know to which extent the movie follows the book, but I've read some reviews and a lot of them say the movie succeeded in channeling the spirit of the book without being a blunt copy. The plot is not that remarkable; unrequited teen romance, young outsiders gradually finding a place where they belong, or a troubled kid that opens up to each teacher- nothing that hasn't been dealt with before-  but this film manages to capture the highs and lows of high school life and deals with issues like abuse, depression and suicide without making it feel melodramatic.
Ezra Miller is the main reason I had sprouted interest in this film. After seeing his amazingly dark performance in 'We Need to Talk About Kevin' which led me to hate on his character, I just had to see more. And I instantly fell for his portrayal of the flamboyant Patrick in Perks. He's put down a gay character who's a welcome burst of light in the film without making him too over the top. Half-way through the story we learn more about his personal struggles, which adds a little tristesse to his character, in turn making him even more relatable.
My second favorite goes out to Logan Lerman's ('Percy Jackson') quietly powerful version of Charlie. The portrayal of a wallflower is quite risky, because they're often on the verge of being categorized as losers. Charlie is nothing of the sort. I felt sympathy rather than pity for this character. He's introverted and is struggling with demons from his past that caused him to develop a mental illness, but nevertheless he tries to reach out to other people. Once he befriends Sam and Patrick, you discover this other side of him which is actually quite funny in a clumsy way.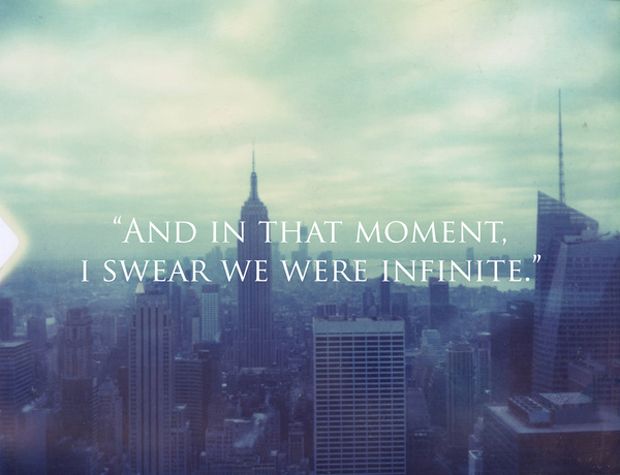 My favorite scene in the movie is where the trio drives into the tunnel with David Bowie's 'Heroes' blasting through the speakers while Emma's character is standing up Titanic-style in the back of the pick-up truck together with the scene where Charlie does the same while he recites the novel's most famous line. It's pure epicness right there.
With the movie comes an amazing soundtrack (The Smiths, New Order, Sonic Youth). One final remark though; who doesn't recognize a Bowie song when they hear it. I mean, really? Even with its flaws, Perks has managed to climb up the ladder all the way to my must-watch section.