According to Max Factor every woman has a 'wild side'. "With the new Max Factor Wild collection, you'll get to show that side in your own way."
I couldn't quite see what they meant with 'wild' when I opened my press package, but after trying these for a couple of months I see now that it's not the products that are wild, but the possibilities with the looks you can create ARE. The collection is pretty basic: 6 mono's – wild shadow pots – in a mix of neutrals and standard brights as I'd like to call them, 6 wild shadow pencils and 2 wild mega volume mascara's (not shown in this post). Even though the products aren't as wild as one would expect, the possibilities to create a wild look definitely are.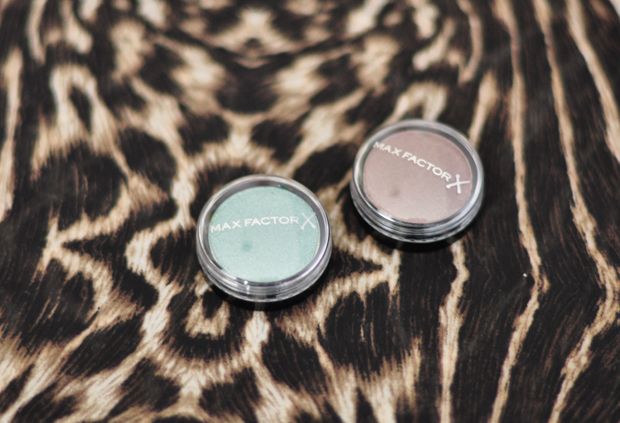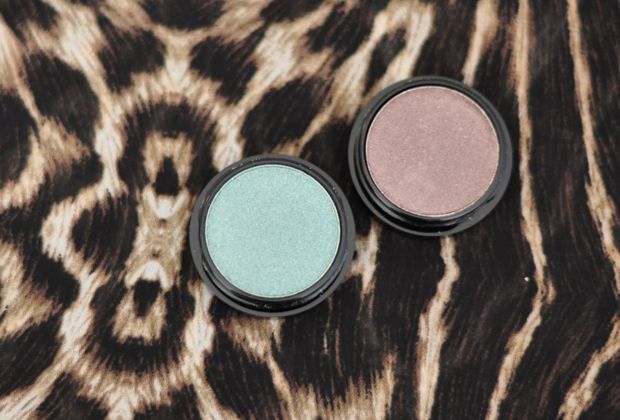 Let's start off with the Wild Shadow Pots. I received 2 of these to try out and the moment I saw them, I'm pretty sure you could see stars in my eyes. They're so pretty! The swatch on the left is burnt bark, a gorgeous neutral taupe shade which makes a pretty good dupe for a MAC favorite – you know the one – Satin Taupe. The blue/greenish one is Turquoise Fury, one I wouldn't pick up if I were to see it in store to be honest. No doubt it's beautiful for summer, but not with my blue eyes.
If you mix the two together however, they make one hell of an awesome Fall look. I usually tend to cover my entire eyelid in Turquoise Fury, blend the edges and then add some Burnt Bark on the moving eyelid and blend again (so only the outer blended corners are in sparkly turquoise).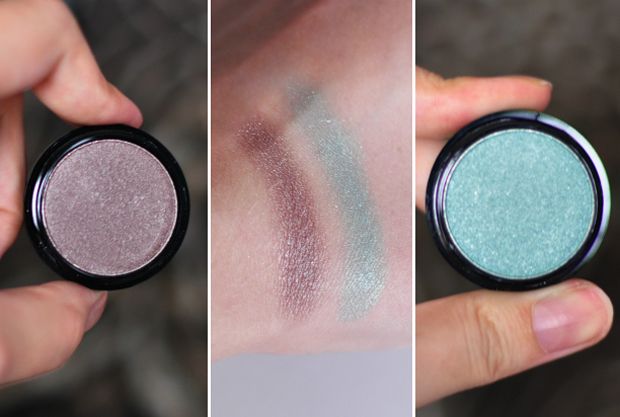 Another suggestion is to use the Wild Shadow Pencils as an eyeliner or even better, use the Wild Shadow Pencil over the entire moving eyelid as a base and then add the Shadow Pot in the same color on top to create a more intense and long-lasting shade. I do this all the time with Caramel Rage and Burnt Bark (I just love neutral earthy tones so much).
I'm not even sure why I'm mentioning the name, because you won't find it on the packaging. Or maybe it was on the plastic wrapper? I don't remember but all that is written on the pencils themselves is a number and I suck at remembering numbers. That aside, I need to mention I hardly ever reach for the Icy Blue color, even though I think it'd be a great color to put in the inner corner of the eyes for when you're creating an all-blue smoky eye. I guess I'll still have to give that one a try, but what can I say, this girl's all for the taupes!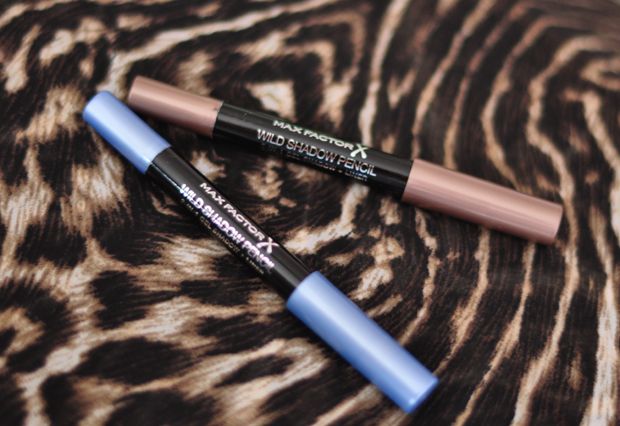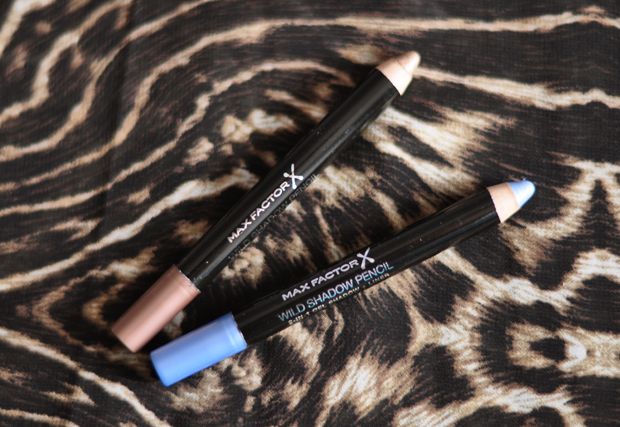 As far as longevity goes I was pretty amazed with these. The pigmentation is good and they last up to 6 hrs on my lids without creasing one bit or even longer when you set them with the Shadow Pots, which is how I like to use them the most. Just like the Shadow Pots, the finish is sparkly but not disco metallic. Just the way I like it. They may be a bit hard to apply (which helps them stay put) when you're wearing contacts though so be careful. I find them to be a little bit too thick to use them as eyeliner on their own, but like I said, they're perfect to use as a base. I really wish Max Factor would make these colors into a Paint Pot/ Color Tattoo-like product.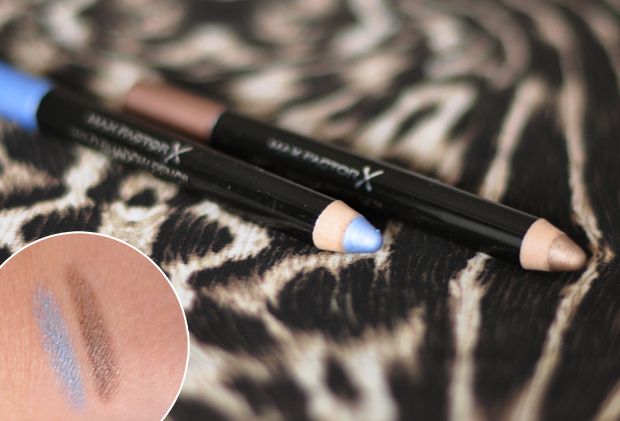 The next product isn't part of the Wild collection, but definitely one that shouldn't be missed. If you've been reading my blog for awhile, you probably know I'm pretty fond of Max Factor's False Lash Effect Mascara. In fact, it's my favorite drugstore mascara to date. When I saw the new Clump Defy mascara I was pretty curious if it could match up to the champion. The packaging is pretty much the same bulky tube that's a little more pink.
The wand is slightly curved and the bristles are close to one another, which makes it easier to reach every part of the lashes and avoid clumping. My lashes appear longer and indeed, not a clump in sight, not even after putting on several layers. The color is intense black and it stays put all day (yay waterproof!). I'm absolutely loving it. The only thing is that it somehow doesn't always manage to keep the curl in my lashes (after I curled them with my eyelash curler), so my lashes seem to stick out straight ahead after a while. I may need to invest in a new/better one.
Though I'm not sure if it's better than the False Lash Effect Mascara (for that I'd have to buy one again and use them at the same time), I do believe Max Factor did a great job with the Clump Defy and I'm going to use it all the way.
As soon as I figure out how I can take pics with the accurate shades, I'll post some looks using the products to give you a better look at the collcetion. For now I can tell you my absolute faves are the Burnt Bark Wild Shadow Pot and the Clump Defy Mascara. Basics I know,  but I've been using them all the time and I'm pretty sure you'll love them too, whether you're a beginner or more advanced in make-up.
Max Factor Wild Shadow Pots € 7,99
Max Factor Wild Shadow Pencils € 8,99
Max Factor Clump Defy Mascara (waterproof) € 14,99
Products were provided by the brand/PR company for review purposes. Check out my disclaimer for more info.