Glossy girls, take note. Guerlain's new Gloss d'Enfer Maxi Shines might tempt you with their comfortable, non-sticky and reasonable pigmented formula might be hard to resist. Now I've grown out of my gloss-phase a couple of years back and that might partially be the reason why I kept these lying around for a while before going into thorough test-mode. The other reason being my stash room is a complete catastrophy and I can't find anything. Otherwise I'm a pretty organized person, I swear!
Guerlain launched these back in May this year in 20 gorgeous shades that offer varying degrees of coverage and pigment intensity, sparkling or shimmer-free, and I got to test 3 of them: '400 Gold Tchlack', ' 421 Red Pow' and '468 Candy Strip'.
The packaging is typical for Guerlain; chic, refined and simple. The product comes in a transparent plastic lightweight tube with a black lid that has the brand written in gold on top. Unfortunately the case is very susceptible for scratches so keep that in mind when you put it in your handbag. The tube contains 7,5 ml which is a generous amount in comparison with most other high-end glosses. The best thing about the whole design is probably the soft doe-foot applicator, which lets you take just the right amount of product out of the tube to outline and define the shape of the lips, also thanks to the mini-reservoir.
The formula of the Guerlain Gloss d'Enfer Maxi Shine lip glosses is overall pretty good. It's non-sticky, smooth, hydrating, ultra-glossy and glides on easily without any patchiness. You can wear one layer just as fine to have a more subtle look (for example; I'm wearing one layer of Candy strip in the top right corner, and 2 layers in the bottom right corner for a more intense effect). Just like any other Guerlain gloss these also have a floral scent to them.
Unfortunately there are always two sides to a coin, and the fact that they're glossy and hydrating also causes them to be not very lasting, especially when you're eating or drinking. Mine last up to 3 hours tops, so you'll definitely have to take these with you to reapply during the day.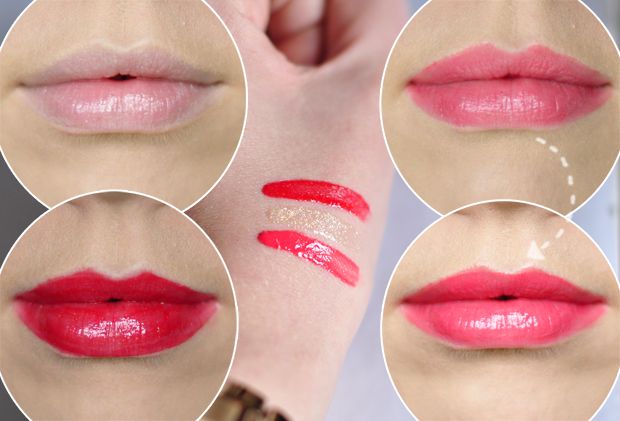 Now onto the shades: to be honest I was a little afraid of the Christmas/discoball effect when I saw Gold Tchlack and Red Pow in the tube. The glitter of these two seemed very explicit, while you can hardly see any of that once applied. Gold Tchlack enhances the natural color of the lips with a nice glitter that makes the lips look juicy rather than looking like you just dabbed your lips in some fairy dust.
For the more intense shades like Red Pow and Candy Strip it's not always that easy to create a lip that's completely uniform. Especially when you're layering. After adding a second layer, the gloss would easily outline my lips and to prevent that from happening I had to stop just a little below the cupid's bow (as seen on the bottom right swatch of Candy Strip). That's what kind of threw me off the most from making this one of my lip product favorites, but it's a good product nonetheless.
What do you look for in a lip gloss? And what do you think about these?
Gloss d'Enfer in 400 Gold Tchlack, 421 Red Pow and 468 Candy Strip — € 29,75
The products in this post are PR samples. Check out my disclaimer for more info.