These days K-beauty is widely discussed across the interwebz, but when it comes to coverage of Japanese beauty in Western media, I'm still quite left in the dark. This is why I have decided to cover as many of my J-beauty products as I can on my blog and social media channels.
Do note that in some cases the exact product colour or packaging might not be available anymore (Japan does love its seasonal limited editions) – sorry. However the review can still you an idea of the product formula or brand in general.
Esprique is a brand by Kosé, which also has Tarte Cosmetics under its umbrella. It can be found in Japanese drugstores but be warned: you might want to keep a close eye on your wallet while shopping. Prices tend to be forgotten quite quickly once the pretty packaging has sucked you in. Or is that just me?
I'm not sure this is still going on but for several years in a row, Kosé dropped a small collection of limited edition items across several brands to raise money for the Fukushima Project. They help the Tohoku region back on their feet after the earthquake disaster. You can recognize these products by the Sakura logo on the packaging. I'm a sucker for Sakura products, so I picked up a blusher and 2 lip products from Esprique that had a beautiful print of sakura blossoms on them.
Esprique Sakura Blossom Loose Cheek blush in PK803
This is the product I recall being drawn to first. This loose powder blusher has a cute sakura blossom drawn on top and comes with the cutest puff. Originally this came packaged separately but I squeezed it into the blusher while I keep the plastic on the sifter to prevent it from getting dirty. I still use a blush brush anyway.
PK803 looks like a bright cool pink, but in fact its a soft white based cool pink that you can build up. On pale skin it can look quite bright, but I don't think dark skin tones will benefit from this (if you want your blush to be obvious that is). On me this looks bright and youthful, the kind of cool pink I love to wear during Spring and early in Summer.
Esprique Rich Essence Rouge / Rich Fondue Rouge lipstick in PK864
From the same range, and thus in similar packaging, comes the Esprique Rich Essence Rouge, a nourishing rouge with the long-lasting, vivid color of a lipstick that applies smoothly even over dry or chapped lips. Don't confuse 'vivid' with 'pigmented' though, the overall look is still glossy and sheer. You can use a tissue to get rid of the glossiness to be left with a nice colored lip stain.
Formulated with Lasting Moist Shine compounds, the Rich Essence Rouge spreads easily over the lips with a melting-smooth sensation, granting hydration, shine and vivid colour. For a sheer glossy formula, I was actually quite surprised of its staying power. The PK864 colour complements the blush well, although it's not a colour I would choose to buy today. Overall this is a lovely everyday lipstick for those looking for a hint of colour in a hydrating formula.
Esprique Rouge Glacer lipstick in PK805
The last product is perhaps the most interesting one as I would describe it as a buttery gloss in lipstick form. The unique formula comes in a click pen and allows you to create a sheer, richly moisturizing layer of shine over the lips that feels like a veil. Every line is covered so the surface of the lips remains smooth. Above all it is very light and non-sticky.
Contains Glossy Rich ingredients and shea butter, which turn clear at body temperature, melting to create a rich, buttery shine that makes the lips look beautifully full. Moisturizing Pack Polymer helps keep the lips moisturized all day. It contains 10 kinds of botanical oils and is unscented.
This formula is absolutely amazing and I would recommend it to everyone who likes gloss to try it out. (In case you were wondering what to look for, the regular line has black packaging). The only bad thing I could say about it, is that it runs out very quickly considering the price point (around € 20). That said, I'm sure that next time I go to Japan and spot this in a lovely nude colour, I'll be taking it home anyway. And, if I'm lucky they might even have affordable dupes by now. Anyway, love this over my NYX butter glosses, and that says a lot!
Swatches: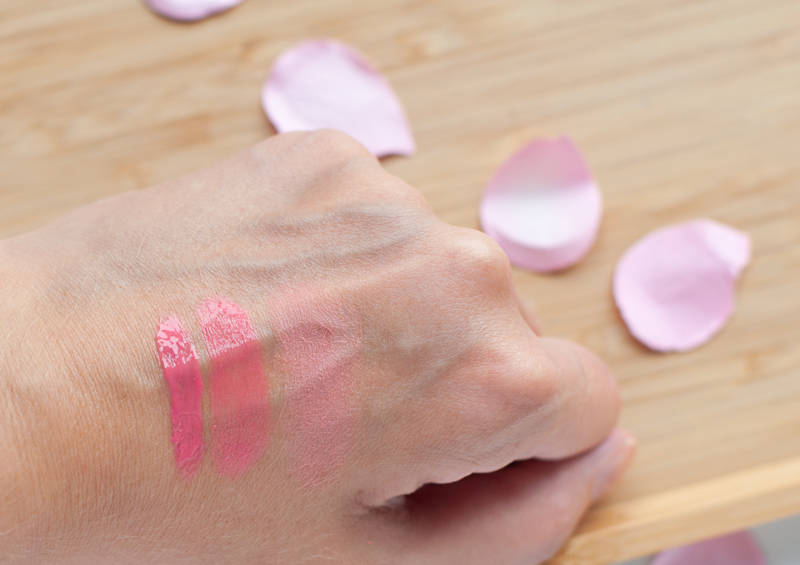 Sakura Blossom Loose Cheek blush – ¥ 2300
Rich Essence Rouge lipstick – ¥ 2500
Rouge Glacer lipstick – ¥ 2300
Esprique is available at the Japanese drugstore or online via Yesstyle
Disclaimer: Products were purchased