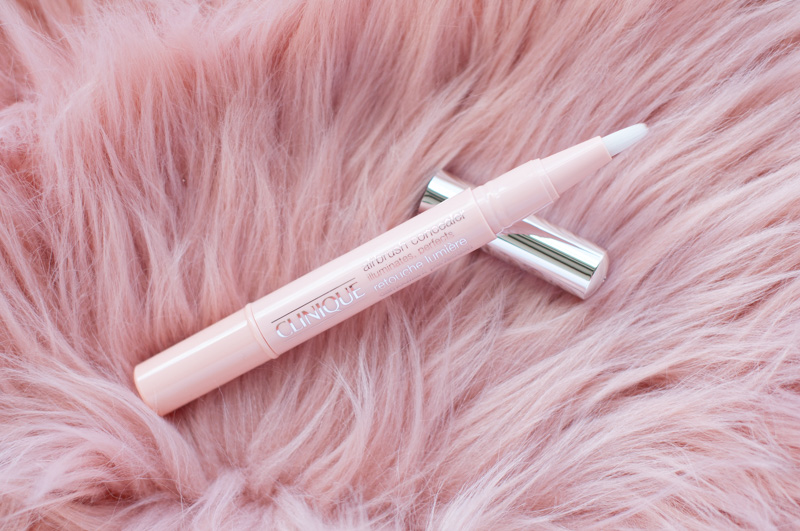 Guerlain's brush pen concealer used to be my favourite tool to correct my under eye area back in the day. Now that my dark circles are getting more prominent with even a little line here and there, I thought it was the perfect time to rediscover the magic of correcting/concealing brush pens. I decided to go for the Clinique Airbrush Concealer as its highly rated on various retail platforms.
The Clinique Airbrush concealer promises to hide shadows and also illuminates and perfects the complexion and eye area. It's made to brighten, perfect and soften the look of fine lines and wrinkles thanks to the light-diffusing optics that brighten shadows.
I purchased the lightest shade 01 Fair, which is very light and pink in colour. It feels very light and creamy on the skin and the coverage is quite sheer. The brush pen makes it easy to dispense and apply the product, although I always tap it in with my finger afterwards to blend it in. The colour helps to brighten the area under my eyes, but it's simply not enough to cover my dark circles. I don't even have very dark circles, but I do need to use a concealer on top to complete the look.
The product also settles in my fine lines just a little bit (as most concealers in this form nowadays do). Personally, I can benefit more from a formula that's a bit thicker and offers a little more coverage. Although it's cheaper than the Guerlain ones, I think it's still a lot of money for only 1,5 ml of product. Given the fact that there are a lot of drugstore concealers options out there that can do a better job, I wouldn't buy this again. If you happen to know of a good concealer brush pen option, do let me know!
Clinique Airbrush Concealer (1,5 ml) – € 26 / $ 22.50 / £ 21
Clinique is available at Ici Paris XL, Douglas, Sephora etc.
Disclaimer: Product was purchased.