Tired of those dark winter days and longing for some colour to brighten up the day? Givenchy might help you with that! They recently launched a new signature couture lipstick 'Le Rouge' and matching nail polish range 'Le Vernis'.
Le Rouge is a collection of 17 rich and velvety lip colours (of which 12 are released in Belgium) that come in the prettiest cases I have ever seen. If you're a fan of the Givenchy fashion, you're definitely going to love this as it breathes the spirit of Givenchy's designs with its luxurious soft leather case and silver stud detailing. With 12 shades ranging from naturals featuring soft nudes and warm beiges, to roses featuring fuchsias and candy pinks and signature shades such as mandarin or garnet there's enough choice to meet everyone's needs.
I swatched all 12 colours during the Ici Paris XL event back in January and I fell head over heels in love with this range. The lipsticks deliver saturated colour in just one stroke and even though they have a semi-mat finish, they're really moisturizing and stick to the lips without shifting or smudging. And as if that wasn't enough, the lipsticks are also infused with a delicate fragrance of powdery mimosa and delicious blackcurrant notes.
I tested °204 Rose Boudoir which is a gorgeous dark pink/red shade with a neutral brown undertone. When applied, the colour immediately clings onto the lips without drying them. The finish is mat, with a minimum of shine thanks to the moisturizing abilities of beeswax when the light hits the lips. The shade is pretty versatile and can be worn during the day as well as complete an evening look. It's well pigmented and easy to build up from natural to va-va-voom lips. It lasts about 5 hours on me and even after wiping it off, I still notice a slight stain on my lips.
This lipstick does exactly what it promises and thanks to its fierce looks it has left me hungry for more shades. Consider 202, 301 and 302 wishlisted!
I was so busy swatching all of those gorgeous lipsticks I almost forgot they came with matching nail polishes. Though 'Le Vernis' doesn't deserve to be overlooked. With the new 'Le Vernis' range Givenchy is introducing the new nail polish packaging: doubled in size (luckily not in price), with a wide application brush, a screw cap and silver click-on cap. The new generation of nail polishes has an incredible formula that allows only one coat to to the trick and give off an incredible colour and high-shine. The collection of shades is timeless; from deep velvet tones to powdery beige, just take your pick according to your mood/occasion and go!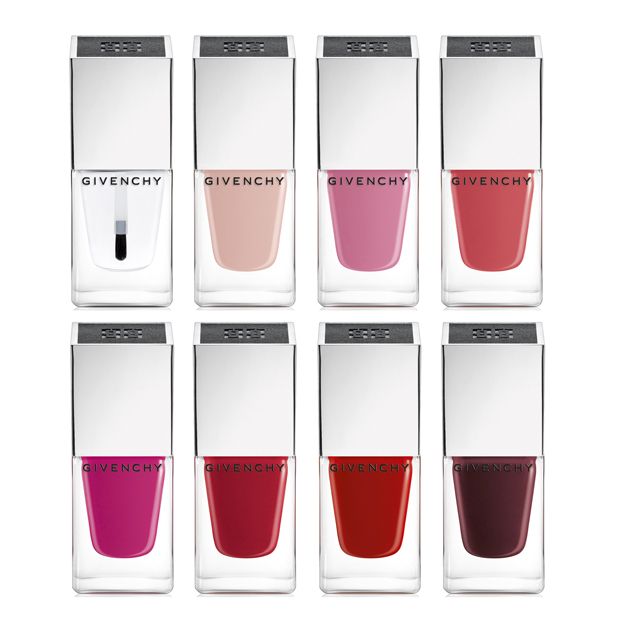 I got this beautiful bright red shade named °06 Carmin Escarpin. I can't wait to rock this one when summer comes. The polish is easy to apply thanks to the wide brush (I don't really want anything else anymore) and in 1 or 2 strokes your work is done. No extra coat is needed, a top coat even less. The shade covers my nail perfectly without any stripes and its finish is shiny as can be. This one lasts about 4 days without top coat, which is ok for me.
And here's the end result; wearing both the lipstick and nail polish. I'm not into matchy-matchy (wearing the same shade of lipstick and nail polish), but if that's your thing, by all means go for it. Both products are high quality items and worth taking a look at next time you pass by a Givenchy counter.
I still have a slight preference for the lipsticks though, I just can't help it. Maybe if they would extend the range of nail polish shades I'll change my mind but for now there aren't enough shades in there that make me want to run to the store. Apart from the permanent colors you see here, there are of course also the limited editions (2 per season) which are more fashionable and suit my taste more. I'll definitely be checking out those.
le Rouge € 34,50 , le Vernis € 21 (*exclusively available at Ici Paris XL for Belgium)
 So how do we feel about the new 'Le Rouge' and 'Le Vernis' collections?
// Dutch/NL:
Ben je laatst al in de Ici Paris XL geweest dan heb je ze vast al gespot, de prachtige nieuwe lipsticks en nagellakken van Givenchy. Beide producten kregen een complete make-over en het resultaat mag er zeker zijn! 'Le Rouge' wordt voortaan verpakt in een geweldig mooie lederen case met stud detail, iets waar de fans van Givenchy als modehuis zeker zullen weten te appreciëren. Er zijn voor België in totaal 12 kleuren verkrijgbaar, van natuurlijke tot roze en dieprode kleuren. Perfect om zowel overdag als 's avonds enkele opties te hebben.
Ik testte °204 Rose Boudoir uit, een dieproze/rode kleur met semi-matte finish. Bij matte lipsticks vrees ik altijd een beetje voor het uitdrogende effect, maar dit was bij deze helemaal niet het geval. De kleur die bovendien in 1 laagje prima dekt, zet zich meteen vast op de lippen en hydrateert ze ook, vandaar dat hij toch nog een klein beetje glanst door het licht. De lipstick blijft perfect op z'n plek zitten gedurende 5 uur. Zelfs na het verwijderen met een tissue blijft er een soort van 'stain' achter. Ik vind deze echt helemaal geweldig en het is dan ook niet verwonderlijk dat er nog enkele kleuren een plaatsje op mijn wishlist hebben veroverd <3.
Hoewel ik helemaal verknocht ben aan de lipsticks, wil dat niet zeggen dat we 'Le Vernis' uit het oog moeten verliezen. Ook dit product maakt zijn beloftes helemaal waar. Voor het eerst krijgen we dubbel zoveel nagellak, een draaidop en zilveren klikdop (zoals we dat kennen van bij Dior) én een breed borsteltje wat het lakken nog gemakkelijker maakt. Slechts 1 laagje is nodig om je nagel in een mooie rode kleur te hullen, zonder prutsen en zonder strepen. Hij droogt ontzettend snel en blijft zonder top coat zo'n 4 dagen zitten. Bij 'Le Vernis' zou ik er zelfs nog niet aan denken om een top coat te gebruiken want de nagellak zelf glanst als een pas gewaxte vloer. Nog meer tijd uitgespaard dus. Oh ja, de kleur die ik hier op heb heet 04 Carmin Escarpin.
Ik mis enkel nog wat meer keuze wat de kleuren betreft want deze zijn nogal basic. Gelukkig zijn er ook nog de limited editions nagellakken (2 per seizoen) die wat meer inspelen op de trends en die ik ook zeker eens ga checken.
Wat vind jij van de nieuwe 'Le Rouge' en 'Le Vernis' producten?