After seeing the Dior Garden collection, I really didn't think anything could top that. Oh, how I was wrong! When I saw the new Croisette collection for this summer earlier this week my jaw just dropped. Literally. This collection embodies everything what I hope summer is going to be. Hot. Colorful. Dashing. Elegant.
"Inspired by the art de vivre of the French Riviera, the Dior Croisette collection combines the peace of the French countryside with the splendour of Saint Tropez. The skin is warmed up and illuminated in a natural glow effect, while the eyes are dressed up with luminescent sunny shades or fresh azure blues. The lips are colorful and subtly sparkling while the nails complete the look with coral and blue shades inspired by the most glamorous emblems of the French Riviera."
5 Couleurs Croisette edition   € 56,50 (limited edition)
Embossed with sunburst pleats, these palettes are inspired by the sophisticated "pleating" technique used on the fabric of Dior dresses. The Swimming Pool harmony recalls a dive into the Mediterranean while the Aurora harmony is a warm collection inspired by a day spent sunbathing on the beach.
224 Swimming Pool / 654 Aurora
Couleur Eye Gloss   € 26,50 (limited edition)
Introducing the first eye gloss by Dior in four fresh, sparkling shades. This gel eyeshadow formula glides on effortlessly for a long-lasting, hydrated look, and a fresh, cooling sensation on the lids.
020 Seashell / 240 Azur / 560 Tan / 750 Sunset
Diorshow Liner Waterproof  € 23,00 (limited edition)

258 turquoise
Diorskin Nude Tan – Nude Glow Sun Powder   € 48,50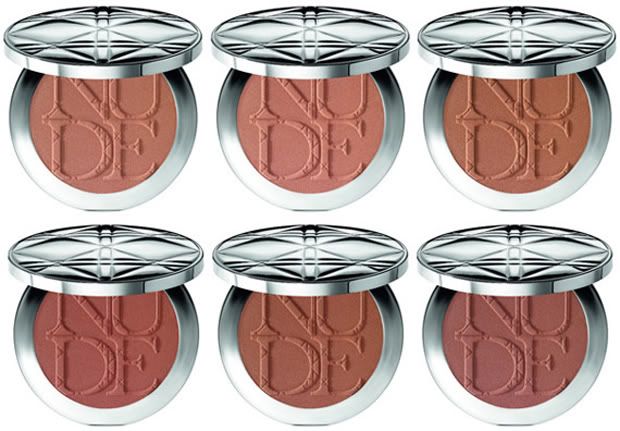 001 Miel  / 002 Ambre  / 003 Cannelle  / 004 Epice  / 005 Caramel  /  006 Sienne
Diorskin Nude Tan – Healthy Glow Enhancing Powder   € 52,50

001 Aurora   / 002 Sunlight / 003 Zenith  / 004 Sunset

Dior Addict Lip Balm   € 32,50 (limited edition)
& Dior Addict Lipstick   € 31,50 
Dior Addict Lip Balm features a nourishing skincare complex filled with moisturizing oils enriched with hyaluronic acid spheres.
Lip balms 414 Casual gold / 354 Palace / 544 Jet-set
Lip sticks 001 Crystal  / 002 Crystal pink / 003 Crystal coral 
Dior Addict Ultra Gloss   € 28,00
224 Or sunrise (limited edition) / 432 Brun panama / 464 Rose croisette  / 542 Orange paréo
Rouge Dior Vernis   € 23,50 (limited edition)
231 Bikini  / 401 Saint-Tropez
My wishlist just got a whole lot longer. My top 5 include the Swimming Pool eye palette, the Saint-Tropez nail polish, Sunset eye gloss and the Bikini nail polish. I just love the mix of coral and turquoise shades! Which product(s) top(s) your wishlist? Be sure to let me know because you might win it in one of my upcoming giveaways! 😉
The Dior Croisette summer 2012 collection is NOW available in your local beauty store. GO GO GO!