Perhaps you've already spotted them on the runways, in the magazines (ex. W Korea), in the movies (seen The Hunger Games yet?) or even in the streets. Pastel pretties are everywhere. And we're not talking about clothes here. What started out as an ombre experiment has now evolved to a full blown pastel hair look in every shade possible and I'm lovin' it!
I've been secretly wanting to get a pastel did for years but life kind of got in the way. Dyeing your hair in school was forbidden and employers aren't exactly keen on hiring people that look like they came straight out of a Final Fantasy game. Ironically enough, that's exactly where my love for these funny-looking colourful hairdo's started, together with the manga stories I read when I was still in my teens and the pink pig tails of Baby Spice. It seemed so unreal at the time, but look where we are now. Times a'changin'.
Want to sport the pastel look yourself, then know this: pastel pink's the most common look of them all, but if you really want to be on trend: lilac is your answer.. or at least for now. Recently yet another shade has been catching up on the popularity polls; according to Fashionista.com, apricot/peach is the next big thing.
So, what do you think about this trend?
Would you wear it and what shade would you pick? Lilac, apricot, pink or mint/blue?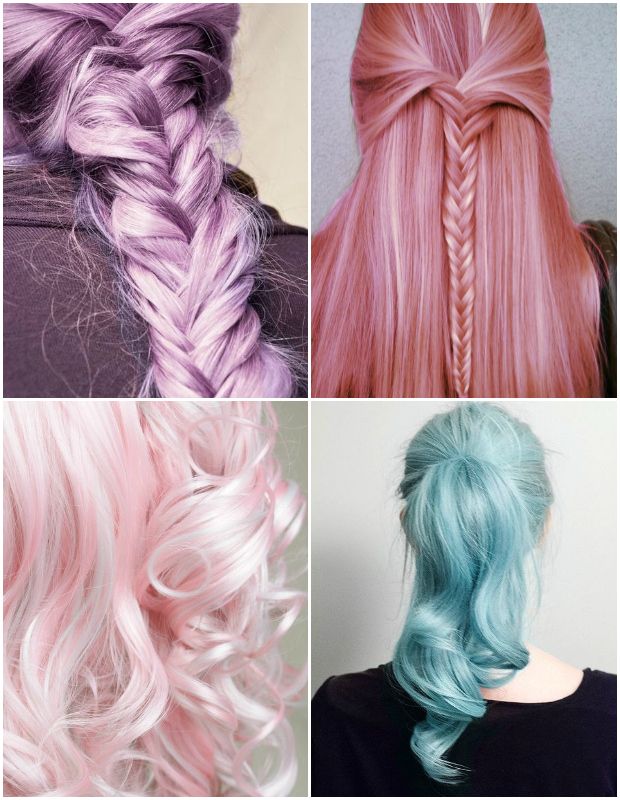 Pictures via Pinterest. For credits, contact me.
//Dutch/NL:
Misschien heb je ze wel al gespot op de catwalks, in magazines (vb. Vogue, W Korea), in films (The Hunger Games al gezien?) of zelfs al op straat. Pastelmeisjes duiken overal op. En nee, we hebben het hier dus niet over kleding.  Wat eens begon als een ombre experimentje is nu uitgegroeid tot een volwaardige pastel coupe trend in alle mogelijke kleuren en ik ben helemaal fan!
Stiekem wil ik al jaaaaren een pastel kopje maar om verschillende redenen is het er eigenlijk nooit van gekomen. Je haar kleuren mocht bij ons op school niet en werkgevers staan nu ook niet meteen te springen om iemand aan te nemen met een coupe à la Final Fantasy. Vreemd genoeg is mijn liefde voor deze gekke pastel kapsels hier net door ontstaan, samen met de manga die ik als tiener las en dan zijn er nog de roze staartjes van Baby Spice, aka mijn idool uit de jaren '90. Toen leek het idee alleen al zo irreëel, maar kijk de tijden veranderen..
Krijg je ook zin om je een pastel look aan te meten, weet dan dit: roze is de meest populaire kleur, maar als je echt mee wil zijn met de laatste trends kies je beter voor lila.. of voorlopig toch want volgens Fashionista.com staat er alweer een andere kleur klaar om de wereld te veroveren; abricot/perzik. Genoeg keuze dus.
Wat vind jij van deze trend? Is het iets wat jij zou doen en voor welke kleur zou je dan gaan?