"Let's go to the beach -each- let's go get away… " Sorry for putting a Nicki Minaj song into your head – it's so damn catchy-, but with the current weather a little trip to the beach is all I think about right now. And it just so happens to be I've found the perfect accessory for a trip like that.. beach proof nails with the Maybelline Color Show Bleached Neons!

While the regular range of Maybelline Color Show nail polishes doesn't appeal to me all that much, the limited editions are totally up my alley every single time. For the Summer Maybelline came up with a range of 4 beautiful shades (7 if you live in the US) that will complete any summer outfit. The Bleached Neons collection consists of colours that are really unique, especially at the drugstore. Like the name suggests, they are fun flashy neons, but they look rather faded, like they've been in the sun for too long. I absolutely love it! The strange thing is, when you wear them, they kind of fade when worn in the sunlight too. Really strange!
Initially I only purchased Tropink and Coral Heat, since those are the colours I tend to wear the most. But I ended up wearing them so much, I went back to get the other two as well. By now, I only have about 65% left in both Tropink and Coral Heat, which kind of proves my love. I might even have to get backups while I still can. The formula definitely is not the best I've seen as it's quite transparent ant stripy, but with neons it's always difficult. I always put on 3 layers with these to get an opaque effect. You can also try to make it more intense by applying a white base coat. Without base coat it will last me 3-4 days without chipping. Now let's have a look at some swatches:
Sun Flare is a pastel neon peach, which looks kind of yellow with a dash of orange in real life.
Tropink is a bright pink and is my personal fave.
Coral Heat is a coral pink and it's one of the more opaque shades of the collection.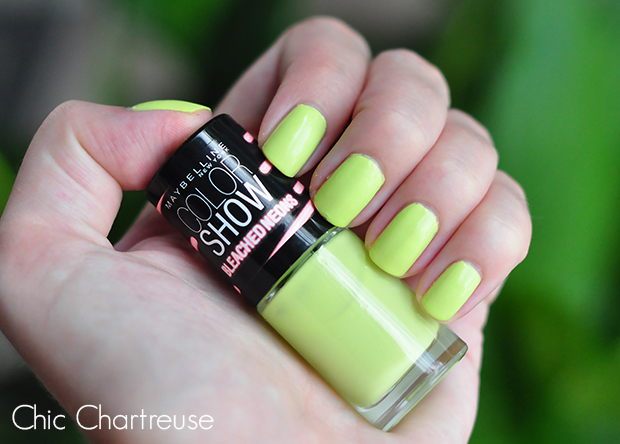 Chic Chartreuse is a lime green shade and it's the most difficult shade to work with. It also dries more matte than the others, which is why I wear this with a transparent top coat.
Note that the shades may have different names in the US: 241 Sun Flare / Bleached in Peach 243 Tropink / Pink Punch 242 Coral Heat 244 Chic Chartreuse / Lime Accent
Maybelline Color Show Bleached Neons € 3,99 / £ 3,99 / $ 3,99 per nail polish. Available at the drugstore (limited edition).
What do you think of the Bleached Neons? What's your favourite nail polish to wear during Summer?
Disclaimer: The products in this post were purchased by me.