Women have been using natural oils in their beauty rituals for ages, and for a good reason. Since I first tried Mythic Oil almost 2 years ago I still love this product so much it has conquered a permanent spot in my hair care stash. Following the huge success of the Mythic Oil, L'Oréal Professionnel has extended the range with 3 additional oils, a shampoo, conditioner and hair mask. 
Mythic Oil uses a wide range of oils extracted from citrus, cypress, argan, green thee, rice bran, cotton seed and linseed. Perfect if you're suffering from dry and damaged hair. The shampoo is enriched with arganoil and cotton seed oil, providing all hair types instant nourishment, discipline and gloss. It nourishes and cleanses my hair perfectly and gives off a great scent. What I also love about this, is that it comes with a pump system. It makes everything so much easier, wish all shampoos had it! Be careful not to use it too often if you're an oily hair type like me. It tends to make it oilier faster after using it for a while. I take turns with my shampoos depending on the state of my locks.
The conditioner is the next step for those with thin hair while the hair mask works best for those with normal to thick hair. I use it on my ends to give them that extra boost. To finish I take 3 -4  pumps of Mythic Oil and rub it onto the lower part of my wet hair (leaving the scalp and roots untouched to prevent it from getting oily).
The original Mythic Oil also got company by 3 new products; the Mythic Oil Milk; which is an enhancing milk spray with royal jelly (rich in anti-oxidant and B complex vitamins) and passiflora seed oil (vitamine C), the Colour Glow Oil which basically is the original Oil + linseed oil and cranberry oil and a protecting UV filter for coloured hair, and the Rich Oil for unruly hair which has been enriched with argan oil and rice bran oil. The milk is a lightweight mist to be used on wet hair to detangle and make blow drying easier. This is the best choice if you have thin hair because it doesn't make it weigh down as much as the oils would do. People with thick hair can use either.
As I don't have coloured hair atm, it would be hard to give the Colour Glow Oil a proper review. I do intend to use it after I finish my Mythic Oil especially because the UV filter sounds interesting for during the summer when my hair is more eager to become a bit dull because of the sun.
To finish I'd also like to point out that these oils are heavy in silicones which I don't really mind, but since many try to avoid them I thought I should mention it.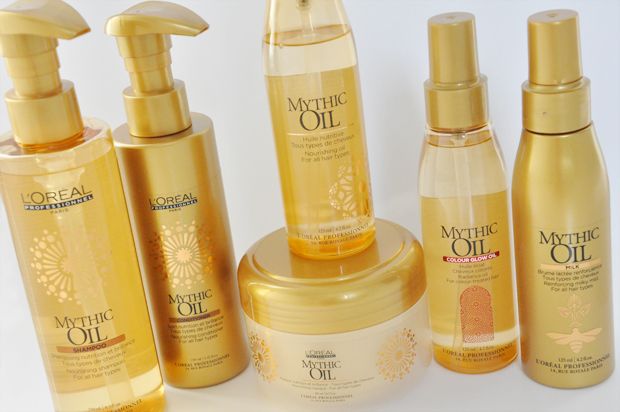 From the products I have tested, the original Mythic Oil and Mask have prevailed as the best products to use for my hair type (oily, thick, long and wavy). They nourish my hair, make it soft and give it a nice shine and scent. The original Oil still remains my favorite of this range and I'd definitely recommend it to anyone who hasn't had a try at the hair oils.
Shampoo (250 ml) € 15,20 — Conditioner (150 ml) € 20,40 — Mask (250 ml) € 21,80
Mythic Oil (original) — Milk — Color Glow Oil  (all 125 ml for € 19)
The Mythic Oil range is available in the L'Oréal Professionnel hair salons.