The launch of the Origins Original Skin Cleansing Makeup Removing Jelly was a bit overshadowed by another launch within the same Original Skin line. Yes I'm looking at you, Pore Perfecting Cooling Primer! I have yet to try it but a foaming primer does look intriguing.
In the meantime I did go for the Cleansing Makeup Jelly because believe it or not, cleansing oils, balms and jellies are still not that common on this side of the globe and I want to try as many as I can. I was looking for a travel friendly alternative for a cleansing oil with the same benefits and this pretty baby pink tube caught my attention.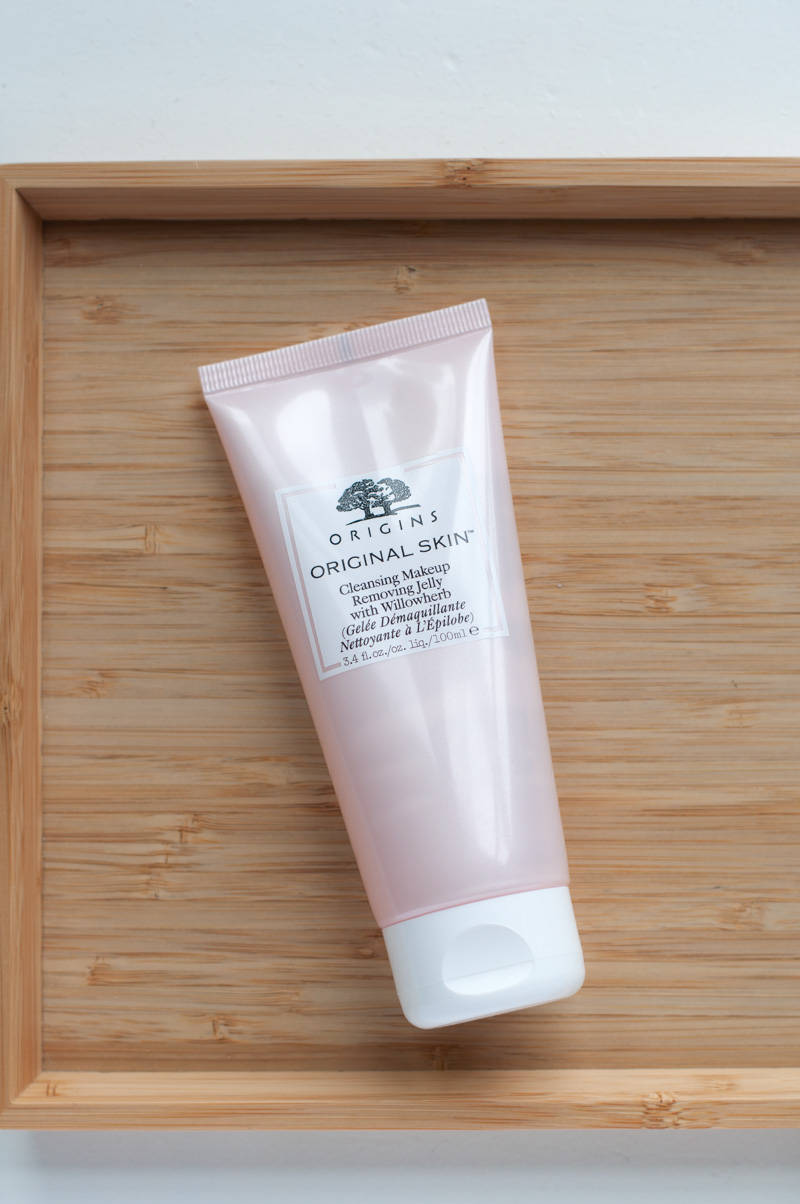 The Sephora site states: Watch makeup melt away with this gentle, deep cleansing jelly. It dissolves dirt, impurities, excess oil, and all traces of eye and face makeup as the lightweight gel formula transforms into a milky cleanser. Canadian willowherb and pink rock rose work to boost skin's glow and the formula rinses easily to leave skin feeling soft and looking positively glowing. 
Ingredients: Caprylic/Capric Triglyceride, Helianthus Annuus (Sunflower) Seed Oil, Isopropyl Palmitate, Hydrogenated Polydecene, Ethylhexyl Palmitate, Glycerin, Isononyl Isononanoate, Polyglyceryl-10 Laurate, Water, Polyglyceryl-10 Oleate, Epilobium Angustifolium Flower/Leaf/Stem Extract, Cistus Incanus Flower/Leaf/Stem Extract, Albizia Julibrissin Bark Extract, Polyglyceryl-10 Pentaoleate, Butylene Glycol, Polyglyceryl-6 Distearate, Tocopheryl Acetate, Hydrogenated Lecithin, Peg-7m, Citric Acid, Bht, Sodium Citrate, Disodium Edta, Potassium Sorbate 
First off; I wouldn't rely on the benefits of evening out the skin tone for a product that's only on your face for a minute or two. The main reason I got this was to efficiently and thoroughly get rid of my makeup in a gentle fashion. And indeed, it removes makeup without irritating my skin, however you do need to use a decent amount to cover your entire face. Because of that I got through my tube rather quickly.
Overall, I found that the jelly works but will miss a few spots if you're wearing a full face of makeup. I always recommend following up with a water based cleanser afterwards, but in this case I will also use a hot cloth to remove any leftover residue in between. It works fine for a light face of makeup (think tinted moisturizer) but doesn't stand a chance against waterproof eye makeup.
Although I enjoyed using this Cleansing Makeup Removing Jelly, I don't think I would necessarily purchase it again because I have other balms I simply love more.
Origins Original Skin Cleansing Makeup Removing Jelly (100 ml) – € 20 / $ 24 / £ 21
Origins is available at Sephora, Ici Paris XL, Parfuma, FeelUnique..
Disclaimer: Product was purchased.