As mentioned before, Givenchy comes with not one but two new collections for this summer. The new summer 2012 collection goes by the name of Été à Fleur de Peau and is all about natural shades; brown, beige and soft pink.
Ombre à Fleur de Peau cream eye shadow
Ombre à Fleur de Peau is without doubt the absolute star of this collection. This creamy, light eye shadow can be applied with your fingers and leaves a fresh and distinctive look that stays put and is resistant to summer humidity. Ombre à Fleur de Peau comes in 2 gorgeous shades; vieux rose and beige, both containing small pearlescent particles and subtle sequins. They can also be used on the shoulders, cheeks and cleavage. I can't really say if the glitters stay put, but the light texture Givenchy is offering does look promising. I'll let you know when I've tested mine.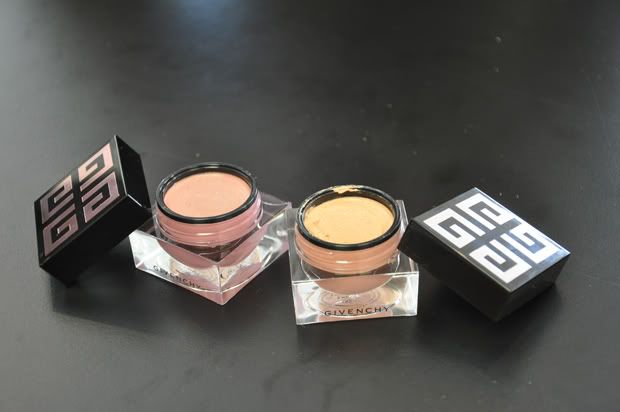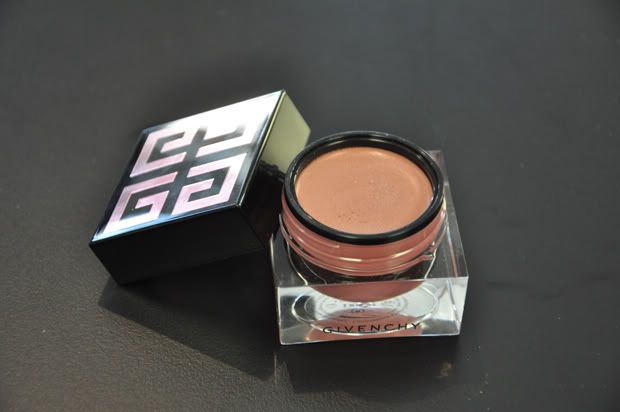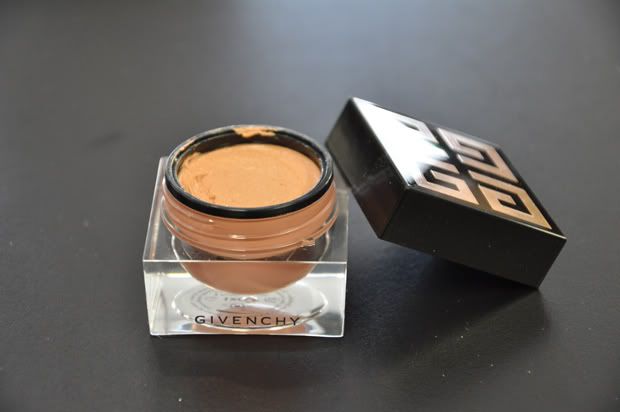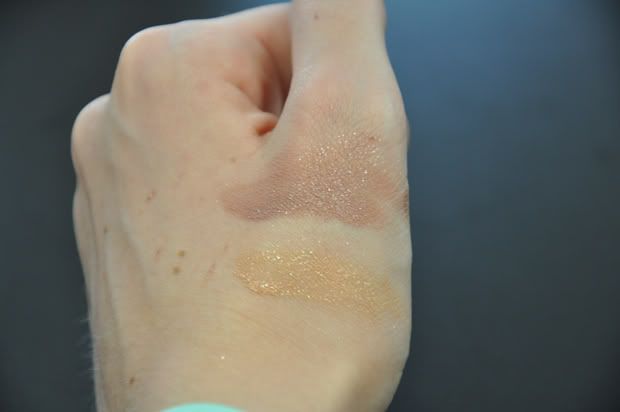 Pearly Rose °1  /  Pearly Nude °2    *estimated* € 27
Magic Kajal eye pencil
Next up is Magic Kajal, a magical multifunctional pencil that functions both as an ideal base for eye shadow, as a lip contour pencil and as a correcting highlighter to disguise any signs of fatigue and skin problems. The small size of the pencil makes it fit into any purse for when you're on-the-go and in need of some quick touch-ups. Just like all Givenchy pencils, this one also comes with a sharpener.
Rouge Interdit and Rouge Interdit Shine lipsticks
The summer collection features 2 lipstick shades. Rouge Interdit Delicate Rose °56 clarifies the lips and subtly accentuates their natural color while the transparent light brown shade of Rouge Interdit Shine Delicate Brown °28 gives them a sunlit color and a brilliant shine.
Delicate Rose °56   € 29,21  /  Delicate Brown °28   € 29,21
Vernis Please! nail polish
The Vernis Please! Delicate Brown °179 nail polish as worn by Givenchy PR Anastasia is a natural brown shade that offers a contrast to all the bright colors we've seen by other brands. Personally, I don't really favor to buy more than one brown shade, so another coral shade would've been nice too.
Phenomen'Eyes mascara
The Phenomen'Eyes mascara is back in a standard black waterproof version and a neutral brown shade. The round brush is designed to reach every corner of the eyes by pushing the lashes upwards with the tip instead of sideways (with 'normal' mascaras).
Mister Light corrective pen
The Mister Light instant light corrective pen is a convenient stick that disguises dark circles and clarifies the complexion. Using an eye cream before applying is advised, since that will prevent the corrector from gathering into thin lines around the eye.
Gloss Interdit lip gloss
The Gloss Interdit in °3 Coral Frenzy is a sheer gloss that will leave a subtle fruity shine. When your lips feel rather dry during the summer, a lip gloss like this can be a great alternative. I usually prefer natural, subtle shades (without any obvious shimmers) like this one.
My personal must-haves are the pearly rose cream eye shadow, the coral lipstick and lipgloss.
What are yours?
Givenchy été à fleur de peau summer 2012 collection is available at Ici Paris XL as of April 16th.