December is the month of celebrating and I tend to gather as many presents to put under the tree as I can. Seriously, who doesn't dream to wake up and find a pile of presents under their tree? I thought it'd be fun to add a Deauty box to my modest pile by subscribing for the December box. Not that I thought I would be able to wait until Christmas to open it (as if!). Want to know what's inside? Then read on…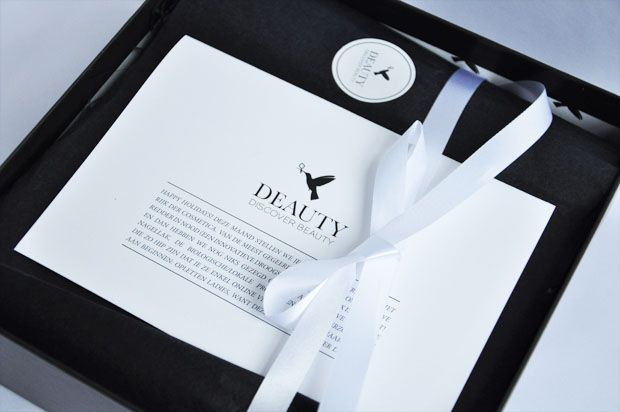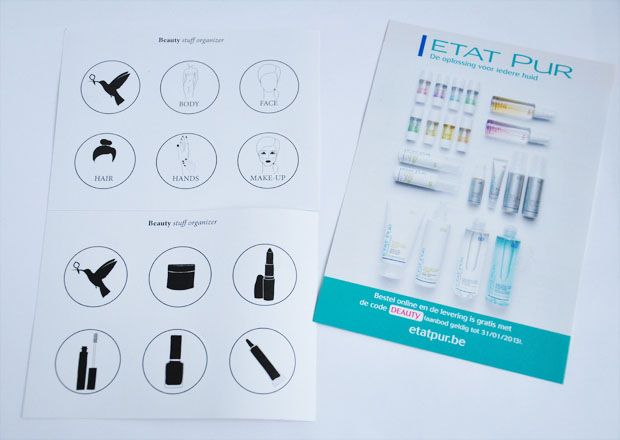 This time my box did include the menu with all the info on the content that's inside. Besides the usual envelope that you can use in case you want to give a product away, this box also contained 2 sheets of stickers to help you organize your beauty stash. Just what I needed, because I always mix up 2 drawers of my Malm (Ikea) where I keep my stash. The other leaflet will get you free shipping when you order something from the Etat Pur website.
Bee Nature shower milk (40 ml) — Etat Pur Actif Pur Citric Acid AHA A60 (15 ml full size)
Klorane Dry Shampoo Oat Milk (50 ml) — Essie School of Hard Rocks (13,5 ml full size)
Kérastase Elixir Ultime Damaged Hair  (50 ml) — extra: Giorgio Armani Aqua Di Gio Essenza (5 ml)
At first glance I see 2 products I already own; the Essie School of Hard Rocks nail polish which comes from the same collection as the red nail polish Deauty put in their first box, and the Kérastase elixir (of which I still owe you a review). And as much as I love miniature perfume samples, I can't help but feel a little bit disappointed when it turns out to be a men's fragrance. All three are great products though, don't get me wrong!
Luckily I have absolutely no prior experience with the other 3 brands and I'm really excited to try them out! Etat Pur has been on my list for a while now and I'm looking forward to add more radiance to my face. Bee Nature is a new Belgian brand whose products are said to consist solely out of natural ingredients, which is always interesting. And last but not least, an item every person with oily hair should have; dry shampoo! This one's going in my bag fo sho!
I might've set the bar a bit too high with my expectations. The box is pretty neat (just like any other month), but I thought it would be a little more festive with the holidays coming up and all. Adding a little glitter perhaps? But maybe that could be a good idea for next year? 😉
Either way, Deauty is slowly but steadily making a name for itself in the industry (just look at all the big brands they're collaborating with) and I'm looking forward to see what they have in store for us in 2013!
What do you think of this month's content? Did you receive something else in your box?