The following products are the ones I enjoyed using the most last month.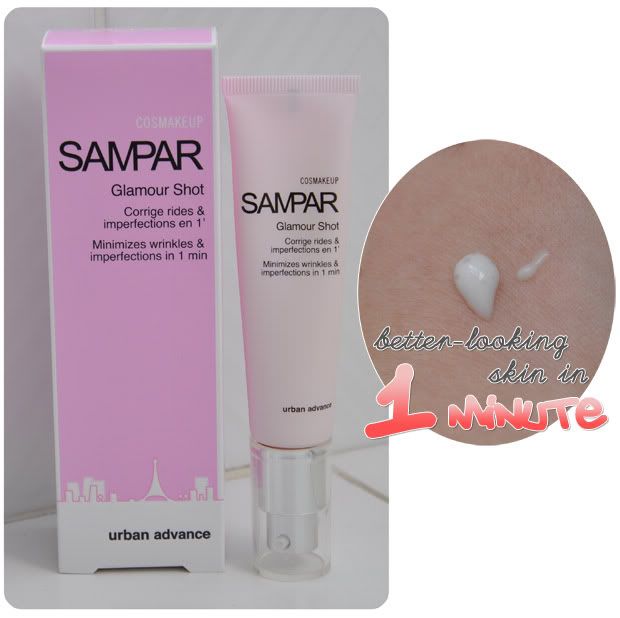 Sampar Glamour Shot
I just love the packaging, it's cute and the hygienic pump allows to get the right amount to cover the entire face when dispensing so nothing goes to waste. This also keeps the product inside the tube safe from bacteria, which is definitely a plus. The fact that it's a squeezable tube makes it easy to get every last bit out of it.
The Glamour Shot is sort of a cross-over between facial care and make-up. It's a transparent foundation that is to be applied over your daily moisturizer and can be followed by a makeup powder. The texture is like a thick gel and it can be easily spread on the skin. This should be done quickly, as it happens to dry really fast, leaving a velvety smooth finish. I can feel and see that my T-zone is matte and that it's slightly tighter. Unlike creams that would be absorbed by the skin, it feels as if the product is laying on top of it like a thin veil that's filling up my tiny wrinkles (fyi: got them bc of the acne skin treatment, the drier your skin, the more likely you'll get wrinkles).
The result is a matte and smooth complexion, my wrinkles and pores are visibly less obvious and my skin tone is more evened out.
However, even though Sampar recommends this for all skin types, my experiments found that this does not apply for skin that's too dry.  Also, the Glamour Shot can only minimize certain problems. If they are too obvious, you're still going to need some regular foundation if you want to have it covered up. When you want to apply it on top of the Glamour Shot, make sure it's a powder foundation because a liquid one will make it crumble off your face. I mostly use it when I don't feel like wearing make-up, but I still want to look 'healthy'. And it really makes a difference!
30ml — € 39
Available at Planet Parfum or Sampar.com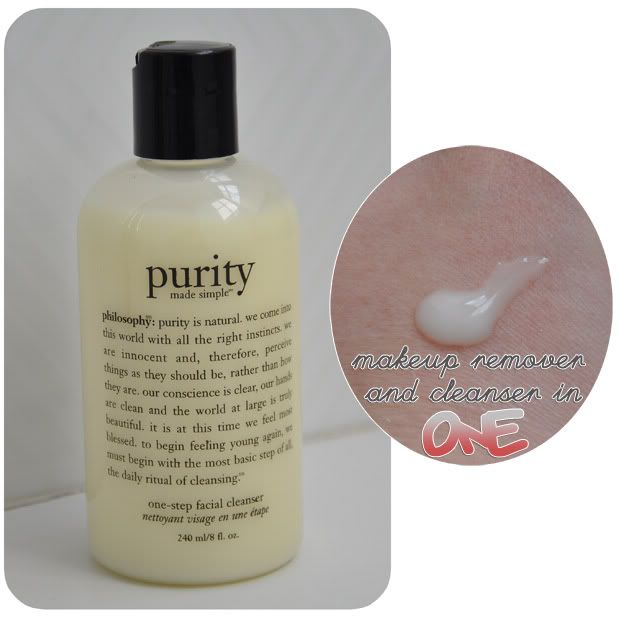 Philosophy Purity Made Simple One-Step Facial Cleanser
I'm such a lazy person when it comes to taking my makeup off before bed. My prayers must've been heard because with this one-step facial cleanser I can get my evening beauty routine done a whole lot quicker! Apply a generous amount of the gel to dry or damp face (with makeup on), and massage for about 60 seconds. The makeup sort of starts melting off of my face. After that rinse it off with some warm water and ta-daaah; a makeup free face!
Afterwards I go over my face again with a liquid eye makeup remover just to make sure all traces of makeup are gone and because around the eyes is a more sensitive area. Most of the time I find no traces at all, except for makeup that was close to my hairline, since I don't like to get some of the gel in my hair. I love this product so much because it works fast and efficient, the only thing I'm not a fan of is its smell, which is a mix of coconut, rosewood, sandalwood and pepper.
240 ml — € 18,50
Exclusively available at Ici Paris XL.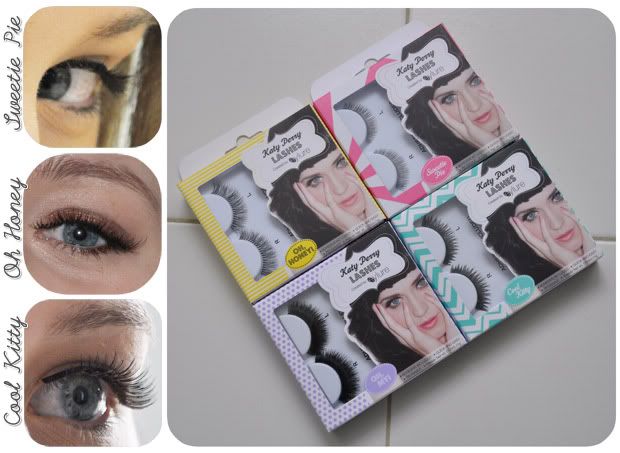 Eylure Katy Perry False Lashes
This is by far the best collection Eylure has ever done. Katy Perry is one of the hottest stars of the moment and she has her own signature cute and girly style. This was perfectly translated into a collection of 4 different pairs of false eye lashes. The packaging is cute and I like the fact that they didn't go for cliché pink. Instead, they went for 4 different colored patterns that give the collection a playful feel.
Then onto the lashes themselves: well, there's something in it for everyone. The range varies from subtle (Sweetie Pie and Oh Honey!) to m'as-tu-vu (Cool Kitty and Oh My!). So far I've worn the first 3 several times (I haven't found the perfect occasion for the wow-factor of the Oh My! lashes yet). Sweetie Pie and Oh Honey are perfect for during the day, while I'd pick Cool Kitty and Oh My! as the perfect partners-in-crime for a full-on evening makeup look. As you can see in the pics, Cool Kitty looks kind of weird when you're not wearing any eye makeup.
Applying them takes some practice, but when done right you can easily wear these up to 8 hours. Make sure you press the ends well after applying the glue, because these tend to come loose quickly otherwise. Another tip: if you have more than one set of lashes, always use one bottle of glue at a time, so you can enjoy your lashes longer since they tend to dry out quickly.
I found this clip on youtube by xsparkage that basically shows how I apply them (in case you're new at this and looking for some advice).
€ 8,50 per set
Available at Kruidvat and DI.
Another product I like to use when I'm not feeling like wearing much foundation is this Blemish Balm by Erborian. It's the first BB cream I've come accross that matches my fair skin tone perfectly (it also comes in a darker color). It works the best when I use moisturizer underneath because that will make it easier to blend and even out the skin tone. My pores become less visible, slight differences in color fade and my skin feels smooth.
However, when you have intense redness, dark circles or blemishes a BB cream just won't do. Then you can still use some foundation or concealer on top. Luckily, I don't have any of these skin problems anymore, so for me this is just perfect!
50ml — € 33,12
Exclusively available at Ici Paris XL.
May I introduce you to my latest hair-product crush? The Kérastase Cristalliste range is simply divine and even though I still have so many other hair products I need to review, this is really all I've been using lately. This range was developed for long hair with dry ends and makes your hair super smooth and gives it the most wonderful shine –ever! Sounds like the perfect gear to treat that ombre hair. The shampoo contains cleansing foaming agents that remove impurities and leave the lengths looking beautiful without weighing them down.
The conditioner is a rich and creamy leave-on, rinse-off formula enriched with a powerful moisturizer, which repairs the fibre's lipid structure. To finish the hair pampering, the non-greasy essence makes the hair really soft and adds some more light. I tend to use 2 pumps bc I love it so much! The scent of these products is delicious and you don't need to use a whole lot of products too, so one bottle will last you a long time.
Curious to try my new hair care crush? I'll be giving 2 sets away soon, so stay tuned!
Bain Cristal Shampoo (available for thick and fine hair) — € 16,50
Lait Cristal Conditioner — € 20,50
Liquid Light Essence  — € 21,90
Available at your Kérastase hairdressing salon.