Last week I ordered myself some nail display wheels at Bornpretty.com because I had trouble keeping up with swatching polishes on my nails. The skin around my nails was getting pretty dry and hard because of the frequent use of nail polish remover. Wearing no nail polish wasn't an option (it's weird, but I feel rather naked without), so the only thing I could do is keep my polishes on for a longer period of time and just order the nail wheels instead. I got 10 for € 6, which was alright, but after swathing some polishes I noticed those 10 weren't going to get my stash swatched. It's crazy how many polishes one can manage to collect in only 3 years…
The following polishes by Ici Paris XL are some of my latest additions. As I've told you in my Nail Polish News post, Ici Paris XL recently released their own nail polish line, which also includes 5 limited edition shades that will change every season. For this season this includes: 113 Banana Split, 178 Acid Love, 213 Pink Kiss, 383 Wasabi and 313 Miss Bikini. Personally, I prefer bright colors during summertime, so this collection is just perfect! My personal favorites are Banana Split, Acid Love and Miss Bikini.
I've only tried Banana Split and Acid Love on my own nails, and these two colors definitely need 2 or 3 coats to get perfect coverage because they are pretty transparent. One thing I really like is the big brush, since that makes it easy to paint the nails (the less strokes, the better)! I do however think they dry a bit too slow, which made me mess up and I had to start all over again. Meh. Therefore I'd definitely recommend using a fast dry product (drops or top coat) with these. And yes, also these polishes score better than Chanel if you consider durability. The first chips happened after the 3rd or 4th day, so kudos to Ici Paris XL! I'll definitely check out their nail polish stand whenever I visit the store from now on!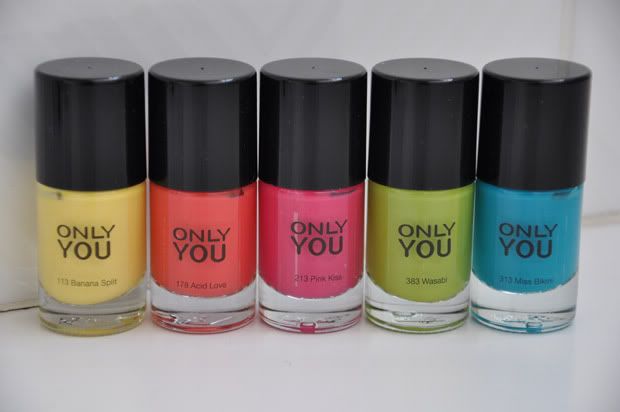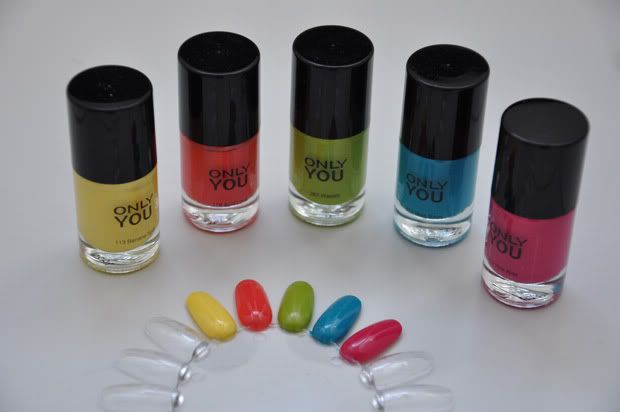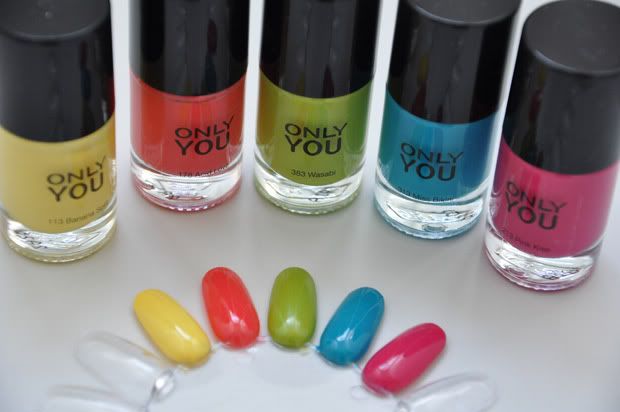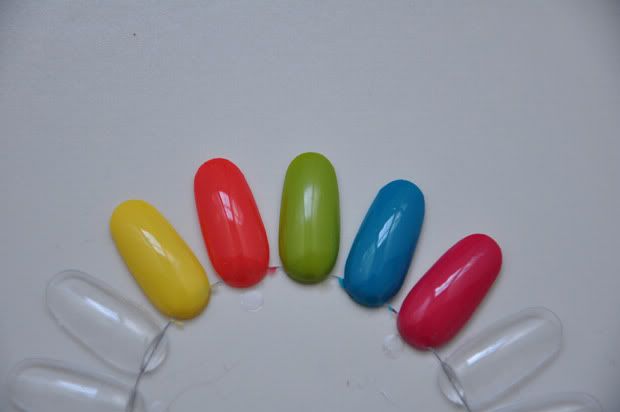 The Only You polishes cost € 4,95 per polish (10 ml) and are exclusively available at Ici Paris XL.